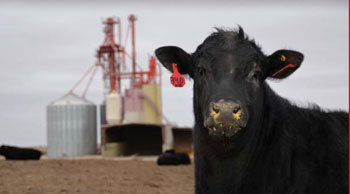 This is the first of a three-part series examining opportunities for beef producers to earn greater returns with high-quality cattle. Future installments will profile ranchers making genetic decisions to earn grid premiums. 
A benchmark study identifies how to create the highest-value animals for the beef industry
Cattle feeders hate surprises. They've adamantly told cow-calf producers for years they want predictability in the form of health and genetics. Now, thanks to genetic selection and marketing grids that reward quality, cattle feeders have the tools to seek more predictable cattle and reward suppliers with premiums.

The value of such top grid earners, and how that can potentially influence premiums paid for feeder cattle, is revealed in a new benchmark study. Data from 15,164 high-quality cattle were compiled and evaluated by Tom Brink, owner of Top Dollar Angus, Inc., and Shawn Walter, Professional Cattle Consultants. Beef Today sponsored the study. 

Those top grid premium cattle evaluated in the study earned an impressive average of $125 more per head compared to the live market in the Central Plains over a three year period. The survey also details how cow-calf producers can select and manage their herds to capture greater returns on feeder cattle and fed cattle marketed through retained ownership.

"With 70% of all fed cattle now marketed on carcass-merit grids and formulas, superior cattle now capture sizeable premiums," Brink says. "Feedyard managers are no longer surprised when some cattle earn a $50 to $75 per head premium on the grid/formula base price. With the right genetics and management, premiums that large and larger are not only possible, they occur every day."

What does it take to earn such large premiums? Brink says the fact that not all producers understand how to capture those premiums was the reason a study of cattle earning top grid premiums was necessary. "What these cattle did right is worth understanding."

For their evaluation, Brink and Walter obtained grid close-out data on cattle earning $100 or more per head above the live market from a variety of industry sources. The sources—15 in all—included feedyards, seedstock and cow-calf producers, one breed association and one producer/packer organization. Additionally, qualifying cattle must have been conventionally-fed and marketed in groups of 30 head or more from 2011 to 2014. Steers, heifers and mixed-sex groups were accepted, but natural and non-hormone-treated cattle (NHTC) were excluded.

The final data set included 146 groups of cattle with a mean group size of 104 head. Steers comprised 47.3% of the groups, with heifers at 37% and mixed groups at 15.7%. Cattle were marketed on a variety of grids to four major packers in the Central Plains. 

"The analysis revealed an impressive $125.04 average premium per head versus the live market," Walter says. "That equates to a 7.2% value-per-head advantage over the live market. We believe that premium suggests these cattle ranked in the top few percentage points for most valuable animals produced in the U.S. during recent years."
What propels cattle to the top of grid premiums? Brink and Walter identified four major observations demonstrated by the top grid-performing cattle:

1. Superior quality grades and quality-oriented brand premiums.
2. Above average dressing percent.
3. Industry average Yield Grades.
4. Small percentage of non-conforming carcasses (other than Yield Grade 4).

The results of the study are consistent with the structure of virtually all industry grids. Quality grade, for 
instance, is a major characteristic of top-grid premium cattle. Cattle in this study averaged 12.2% Prime, about three times the industry norm. Prime carcasses earn $10 to $25 per cwt premiums.

This study also found 42.2% of carcasses qualifying for Certified Angus Beef (CAB), which requires carcasses to be in the upper two-thirds of Choice or higher. The national CAB acceptance rate for black-hided cattle is 26%.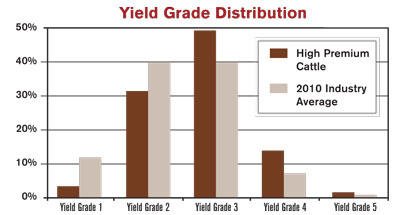 Cattle selling on grids reach an ideal carcass endpoint after three to four more weeks on feed, which often results in a less-than-ideal Yield Grade profile.
Further cementing quality grade as a primary characteristic for earning top premiums, 90.3% of the cattle in this study graded Choice or Prime, while Select totaled just under 10%. The beef industry averages 68% to 73% Prime and Choice, with Select at 24% to 29%. "This shows marbling is an important key to unlocking grid marketing success," Brink says. "The cattle in this study, on average, were about 20-percentage points better for the top two quality grades."

The value of high quality grades becomes even more apparent when comparing cattle from the top 30 lots with the highest grid premiums to the lowest 30 lots. Both groups deserve a purple ribbon, but the top 30 lots earned a huge premium of $163.62 per head, $61.18 per head more than the bottom 30 lots in this study. 

"The takeaway message is that high quality grades are closely associated with winning on the grid," Brink says. "Cattle with superior marketing genetics have what the market pays extra dollars to get."

Cattle in this study also produced a higher dressing percentage than the industry average, yielding more pounds of beef per animal. The average dressing percent for the 146 lots in this analysis was 65.1% versus an industry average of 63.29%. That amounts to an extra 24 lb. of carcass weight on cattle with an average weight of 1,326 lb.

Evaluations for Yield Grade in this study were problematic since USDA stopped reporting Yield Grades at the end of 2010. Yet a comparison was made against the 2010 industry average. It was clear, the authors say, that the high-premium cattle in this study were not superior for Yield Grade. They produced more Yield Grade 3s and 4s, likely due to more days on feed.

"The high-premium cattle in this analysis were fed longer for a specific purpose," Brink says. "Their Yield Grade results were intentional."

Intentional because the ideal carcass endpoint for cattle selling on grids is reached with three to four more weeks on feed compared to cattle sold on a live weight basis. That results in a less than ideal Yield Grade profile, but it improves dressing percent, adds salable pounds of carcass and helps ensure maximum quality grade potential is reached.

"Cattle feeders have concluded that the benefits of this added time on feed outweigh the costs, with one of those costs being more Yield Grade 3s and 4s," Brink says.

In addition to earning premiums, top-performing grid cattle avoid discounts. The cattle in this study produced 4% "outs," or non-conforming carcasses. The industry average is 6% to 10% non-conforming carcasses. Large discounts are applied to carcasses judged Standard, heavy, light, dark cutters, hard bones and stags/bulls. Those discounts range from $20 to $30 per cwt on a carcass weight basis, which is equivalent to $200 or more per head. 

Brink and Walter believe the elite grid-premium cattle analyzed in this study provide a template for creating industry-topping value. 

"The feeder cattle and calf market is not perfect," Walter says. "But more and more, premiums received at the fed cattle level are being passed directly back into the feeder cattle and calf market."

Brink says in the simplest terms, the high-premium cattle researched in this study possessed: extreme marbling, good muscling and a healthy dose of uniformity.  

"These cattle were obviously produced by ranchers and farmers who understand the traits and characteristics needed to win big in today's market place," Brink says. "We can follow the trail they have blazed and make it a well-traveled highway."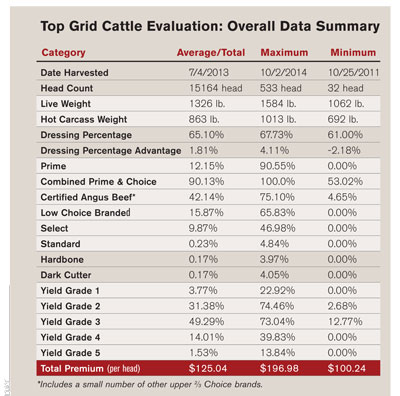 This data set from "Evaluation of Cattle Earning Top Grid Premiums" provides a summary of average values for all cattle with highs and lows for each data field.