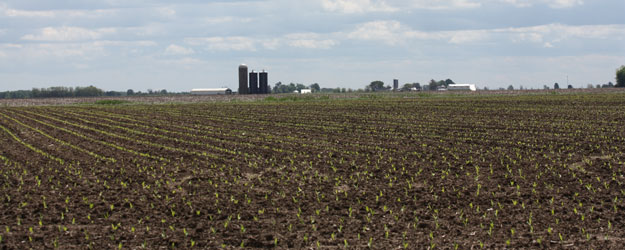 Farmers are waiting for land rents to drop in response to lower commodity prices, but here's the truth: Cash rents are kind of sticky. They don't move down as rapidly as farmers would like, and they certainly don't move up as fast as landowners want. 

The problem for renters is two-fold. Lease rates almost always lag drops in grain prices as landowners see what the market will bear. Farmers usually chase land prices for fear of losing the acreage in the future to a neighbor who will risk paying more.

Iowa remains the bellwether farm state for land prices with more land under cultivation than any other. Average cash rents in Iowa run $260 to $300 an acre, but some farmers have paid $500 to $700 an acre in recent years to ensure grain market supplies, notes Michael Duffy, Iowa State University economist. With rents not falling in line with crop prices, farmers feel the squeeze. 

University of Illinois economist Gary Schnitkey thinks landowners have the upper hand right now. Many charged low rents for years before catching up with record high grain prices, so they are in no mood to lower rents. As one Iowa State field specialist said in quoting landowners, "They think the tenants should bleed for awhile and give the profits from previous years to landlords." 

Meanwhile, rural bankers show signs of a negative outlook on farmland values, according to a recent Rural Mainstreet Index survey conducted by Dr. Ernie Goss, Creighton University. The survey of rural bankers in 10 states ranging from Colorado to Illinois reports the decline in grain prices has them expecting farmland values and cash rents to decline.

"Weaker crop prices continue to take the air out of the bubble in ag land prices," Goss states. More than three-fourths of bank CEOs expect farmland prices to decline over the next year by an average of 5%. They expect cash rents to decline by an average 3.4%.
Love Affair. So why would a farmer in Sioux City, Iowa, spend $20,000 on an acre of land when corn sits below $4? Why do farmers agree to rents that project a net loss?

It's the nature of farmers to keep a hold on acreage, and gains in a production base often outweigh caution. Doug Stark, president and CEO of Farm Credit Services of America, notes the opportunity for farmers to acquire land represents a sense of accomplishment that cannot be measured solely in economic terms; farmland is what farmers know and love. Just be careful that love doesn't get you into a sticky situation.