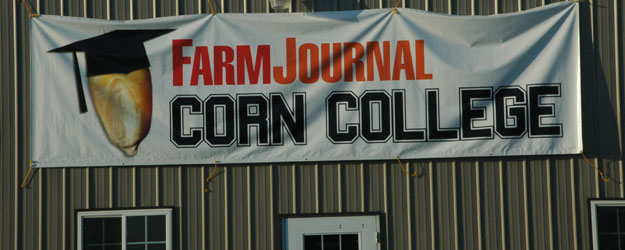 This year's crop got off to a fantastic start. Many farmers managed to plant early, thanks to spring-like temperatures in late winter, and early rains helped secure overall health.
But by the time more than 750 farmers and retailers gathered for last week's Corn College event in Bloomington, Ill., things had gone decidedly south. A record drought, the worst in more than 20 years, had many saying their average yields would be off anywhere from 40% to 80%.
Some crops will be completely lost. If attendees come to Corn College looking for advice, they certainly found it. Here are a few of the key take-aways from the event.
Many farmers remain upbeat.
One farmer drew laughs when he told the group that this year's crop would be his best ever—because it was his first. On a more serious note, several farmers from regions where rainfall had been good expected to have record crops. One attendee, Doug Recker, a dry-land corn farmer from Dyersville, Iowa, expects to harvest 200 bu./acre.

Don't count your chickens before they hatch.
Outside the severe drought areas, Ken Ferrie, Farm Journal field agronomist, says some fields are still tracking for yields in the neighborhood of 150 bu./acre. But the weather must cooperate between now and harvest to maintain those yields. "To hold kernels, we're going to need two inches of rain every week, because there is no soil moisture reserve."

Consider a put option as an insurance policy.
Futures prices for corn and soybeans rose to record highs during last week's conference. Mark Gold of Top Third Ag Marketing, who spoke during the luncheon, suggested that farmers buy a $7 December put option for 35 cents. If prices move even higher-- to $9 or $10—they would still be able to sell corn at a higher price, even if it's not the highest possible price.
Don't forget that prices may still fall.
"All it would take is putting the President in front of a press conference and have him mention putting an end to the ethanol mandate or reducing exports," said Gold. The result s of an AgWeb reader poll, conducted this week, indicate that most farmers expect corn and soybean prices to keep rising. Only about one-third of readers think they have peaked.
Some pests remain undeterred by the heat.
It may feel like torture for humans to be working the fields in 100-degree heat, but some insects aren't sweating it. Isaac Ferrie of Crop-Tech Consulting says spider mites and corn rootworm beetles have been big problems during this hot, dry summer. Under normal conditions, you can get a half inch of silk growth a day, enough to outpace rootworm beetles. "But in drought conditions like this, we're lucky to get an eighth of an inch a day. We can't outgrow what they are out there clipping away."

This May be the Year to Cut Your Losses.
Ken Ferrie, Farm Journal field agronomist, says that based on his inspections there's little hope for some fields. "There are fields out here that did not pollinate," he says. "Hybrid, planting date, rainfall and farming practices and are all playing in that."

Start Planning for Next Year.
"This has been a very nitrogen-friendly year, compared to last year," says Ferrie. "We see some pretty decent nitrogen levels holding in the soil." But, if your corn is showing nitrogen deficiencies this year, you need to update your nutrient management plan now. Ferrie says by identifying nitrogen deficiencies this year, farmers can determine what to change for next year to weather-proof their corn.
 
....................................
Thank you to the 2012 Corn College sponsors:
Ag Leader, AgriGold, Agrotain, BASF, Chevrolet, ESN/Agrium, Great Plains, NCGA, Novazymes, Precision Planting, SFP, Schaffert, Top Third Marketing, WolfTrax
---