---
Virtual Farms Tours give World Dairy Expo attendees the opportunity to experience a wide variety of farms, topics and management styles, all from the comfort of a chair. This year's operations excel in areas of water conservation, genetics, robotics and more. The tours are led by dairy owners and managers, with a half-hour pictorial overview of their operation, general information and highlights of exceptional management practices. After each session there is time for questions and discussion.
The tours are presented daily, Tuesday, Sept. 30 through Saturday, Oct. 4 in the Mendota 1 meeting room in the Exhibition Hall. The presentations will also be posted on World Dairy Expo's website after the show. Sponsors of the 2014 Virtual Farm Tours are AgStar Financial Services, American Jersey Cattle Association, DuPont Pioneer, Kansas Department of Agriculture, Lely, Livestock Water Recycling Inc., Quality Liquid Feeds Inc. and Zoetis. Following is a short description of each tour:
---
Tuesday, Sept. 30, 2 p.m.
Hosted by: Milk Source – Hudson Dairy, Hudson, Mich.
3,000 Milking/Water Conservation
Sponsored by: Livestock Water Recycling, Inc.
Cow care and water conservation are top priorities for Hudson Dairy. Launched in June, this is the fifth large-scale dairy built by the Milk Source partnership of Jim Ostrom, John Vosters and Todd Willer. The partnership also owns Milk Source Genetics, a nucleus herd of elite Holstein and Red & White cattle; Heifer Source, a 20,000-head heifer raising facility and Calf Source, a 10,000-head calf facility. Hudson Dairy has 3,000 milking cows with a rolling herd average of 24,000 lb. The new facility has a manure processing center that extracts nutrients and solids for use as fertilizer, with the end product being clean, potable water. All Milk Source dairies are part of the National Dairy Farmers Assuring Responsible Management (FARM) program, which emphasizes animal care. Milk Source was named the 2014 Innovative Dairy Farmers of the Year by the International Dairy Foods Association and Dairy Today.
---
Wednesday, Oct. 1, Noon
Hosted by: Rokeyroad Holsteins, Sabetha, Kan.
114 Milking/Genetic Advancement
Sponsored by: Kansas Department of Agriculture
Dwight and Anita Rokey will tell you they are living their dream. Rokeyroad Holsteins is home to 114 registered Holsteins with plans to expand. Originally crop and hog farmers, the Rokeys have bought into several well-known cow families including Raven, Dellia, Caramac, Bellwood Linda, Roxy, Elegance and more. They bred the 2013 All-American Red & White Milking Yearling and have several bulls in stud including Rokeyroad Rokstar-PP-Red, a red homozygous polled bull. Rokeyroad has a rolling herd average of 28,200 lb. of milk with 4.0% fat and 3.2% protein. Currently, the herd is housed in the only tie stall barn in Kansas. This facility is equipped with an evaporative cooling system and tunnel ventilation, which can cool the barn by more than 20°F. The Rokeys will be constructing Kansas' first bedded-pack dairy barn, with sawdust sourced from a local cabinet supplier.
---
Wednesday, Oct. 1, 2 p.m.
Hosted by: Sugar Creek Farms, New London, Wis.;
1,200 Milking/Adopters of Technology
Sponsored by: Zoetis
What started as an FFA friendship has developed into a productive operation. Mike Bruette and Jeff Handschke were members of the same FFA chapter in high school. Since 1997, they have been farming in partnership and expanded in 2001 and again in 2008. They're currently milking 1,200 cows with a rolling herd average of 29,500 lb. of milk. Sugar Creek Farms believes in implementing the latest technologies and having strict protocols to ensure the health and safety of animals and employees. The herd is outfitted with RFID tags that are tied to the herd management software that helps to track herd health, vaccination programs and reproductive status. Overall, the monitors have made it easier to ensure that all established protocols are being following.
Sugar Creek Farms has been genomic testing all of their females for the past two years. They use this information to maximize their use of sexed semen and to facilitate culling decisions. By working closely with employees and the management team, including their veterinarian, they ensure their animals stay healthy, happy and productive. Sugar Creek Farms also opens their doors to host a variety of events each year. They hosted the 2012 Farm Technology Days and were a host farm for the 2014 Midwest Regional Dairy Challenge.
---
Thursday, Oct. 2, Noon
Hosted by:  Lyon Jerseys LLC, Toledo, Iowa; 400 Milking/Productive Life
Sponsored by: American Jersey Cattle Association
For more than 90 years, the Lyon Family has taken a no-nonsense approach to building one of the top U.S. Jersey herds. Today, the operation includes Joe Lyon, his son Eric and nephew Stuart. The herd of nearly 1,000 registered Jerseys includes 400 cows averaging 18,170 lb. of milk at 5.2% fat and 3.6% protein. The Lyons select animals with high butterfat and protein components,
balanced type and longevity for breeding. This philosophy has paid off. Since 2006, the herd has ranked nationally in the top 10 for butterfat in their herd size category. They have bred 254 Excellent cows to date, with 242 cows achieving lifetime production of more than 100,000 lb.
of milk. The most prominent progeny are Lyon Duke Dutchy, Excellent-95% and Reserve Grand Champion of the 2011 International Jersey Junior Show; and Lyon Impuls Louie Chart, a bull that made the top 25 active AI sires on his first daughter proof this past April. The Lyon family has been honored as Iowa Master Farmers, and Joe as National Dairy Shrine Guest of Honor and World Dairy Expo's Dairyman of the Year.
---
Thursday Oct. 2, 2 p.m.
Hosted by: Lepples' Ridge-View
Farm Inc., Beaver Dam, Wis.; 130 Milking/Robots
Sponsored by: Lely
As the next generation returns to Lepples' Ridge-View Farm Inc., the goals were to maintain producing a high quality product while improving the family's lifestyle. This is exactly what the Lepple family has accomplished. As Joel and Jean brought their sons, Craig and Brent, into the family dairy business, they knew the milking equipment was due for replacement or upgrading. The family researched their options and selected two robotic milkers to install and automated more of their feeding system. Cows are fed a partially mixed ration (PMR) when they enter to be milked, helping newer cows adjust to the robots. With the addition of the robots, came the necessity to build a freestall that features an elevated ceiling and waterbeds for increased cow comfort. The Lepples will tell you they have learned a lot in the past three years including the importance of teat placement. Currently, 130 cows are milked an average of 3.1 times per day averaging 85 lb. of milk per cow per day. With robots taking care of the daily milking, this allows the Lepples' to better manage their dairy herd through automatic monitoring of milk quality and cow activity and has brought freedom and flexibility to the family.
---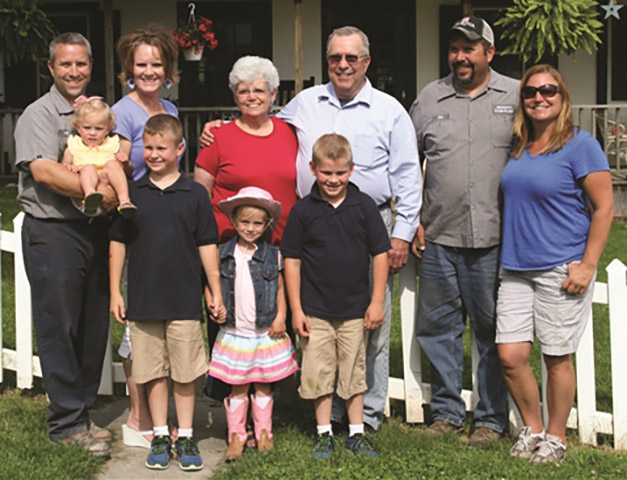 Friday, Oct. 3, Noon
Hosted by: Wanner's Pride-N-Joy Dairy, Narvon, Pa.; 772 Milking/Environmental Stewards
Sponsored by: Quality Liquid Feeds, Inc.
Environmental stewardship and animal husbandry are top priorities for the Wanner Family. Alfred Wanner Jr. and his sons, John and Matt, farm in the Chesapeake Bay watershed, which drives them to be the best environmental stewards possible. The herd of 750 cows average 90 lb. of milk per cow per day, with a rolling herd average of 27,000 lb. of milk and somatic cell counts below 150,000. Wanner's Pride-N-Joy Dairy utilizes an on-site methane digester as part of their manure management system. Power generated from the digester is used on the farm and sold by net metering to the local power company. Digested manure is separated —solids are used for bedding the herd, and liquids flow to a two-stage lagoon system. Second stage effluent is irrigated. Low protein rations balanced for amino acid needs and a yucca plant extract help minimize ammonia and odor—a benefit for neighbors and visitors to the farm. New heifer facilities have allowed Pride-N-Joy Dairy to meet their goal of calving heifers by 22 months of age and 1,300 lb. 
---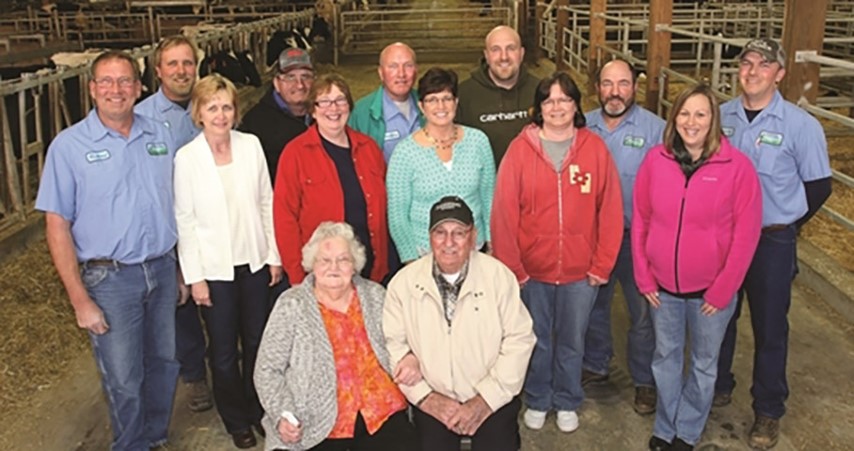 Friday, Oct. 3, 2 p.m.
Hosted by: Johnsons' Rolling Acres Partnership, Peterson, Minn.; 1,050 Milking/Community Involvement 
Sponsored by: AgStar Financial Services
Johnsons' Rolling Acres is a diversified farm with a community-minded focus. For the Johnsons, it is of the utmost importance that people are educated about where their food comes from. They hire local staff to help care for their 1,050 cow herd with a rolling herd average of 30,000 lb. They host numerous activities, including FFA tours, events for student/parent groups, as well as Dairy Night on the Farm as a kick-off to June Dairy Month. When they realized that many local preschool children were drinking juice instead of milk, they starting purchasing milk for approximately 100 kids. Additionally, when a nearby community flooded, they were on-hand with pumps and equipment to save public utilities and facilities. The family was recently named University of Minnesota Extension Farm Family of the Year.
---
Saturday, Oct. 4, Noon
Hosted by: Twin Birch Dairy LLC, Skaneateles, N.Y.
1,240 Milking/Sustainability
Sponsored by: DuPont Pioneer
Because Twin Birch Dairy is near a lake that provides fresh water to Syracuse, N.Y., Dirk Young and farm partners invest in the latest technologies to ensure environmental stewardship. The dairy uses a methane digester and a unique underground pipeline system that delivers manure to fields by drag line. By utilizing precision agriculture, they are able to maximize forage yield and quality. Through the use of scales and increased bunker storage, they maximize their harvesting efforts and maintain a high quality product for their herd of 1,240 cows that have a rolling herd average of 30,500 lb. of milk. Looking to the future, Twin Birch Dairy is working with a marketing group to add a new milk plant to supply protein concentrates, skim milk powder and whole milk powder. For their conservation efforts, Twin Birch Dairy was awarded the Onondaga Conservation Farm of the Year.