A broad section of the Midwest is expected to see severe thunderstorms, damaging winds and even a few tornadoes during the next two days, according to The Weather Channel. Around 35 million Americans will be affected.
Specifically, tornadoes are most likely to occur in the Central Plains on Tuesday. Conditions are also favorable for creating a derecho – that's a squall line that stretches several hundred miles that produces hurricane-strength winds in severe cases. (A 2003 storm that slammed the Mid-South was dubbed "Hurricane Elvis," in fact.)
Nebraska faces the biggest threat of tornados on Tuesday. Other states that are dialed in for severe weather today are Kansas, Missouri, Iowa and as far east as Illinois and Indiana.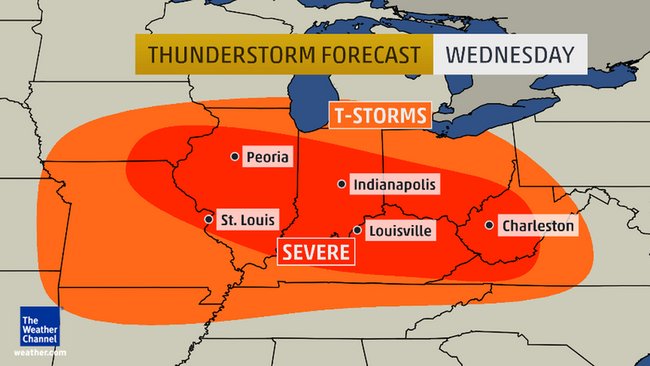 Severe weather forecast for Tuesday, June 3, 2014
On Wednesday, the threat of tornadoes diminish, but the mid-Mississippi Valley into much of the Ohio Valley could still see widespread damaging winds.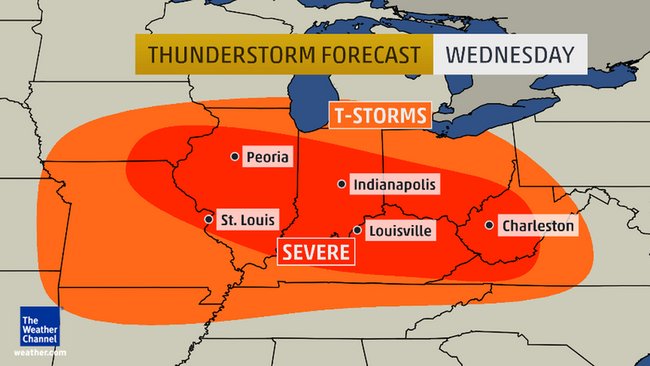 Severe weather forecast for Wednesday, June 4, 2014
The Central Plains could also see more than 5 inches of rain in some areas this week. These type of rain events could relieve drought-stressed acres but also present flooding concerns.