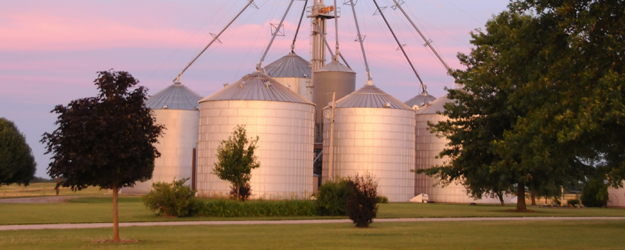 USDA and Pro Farmer have both predicted record corn and soybean crops for 2014. And all that grain has got to go somewhere. Some experts, such as University of Missouri agronomy professor Bill Wiebold, say it's not too soon to start thinking about storage options.
Some farmers are still holding on to a portion of their 2012 and 2013 crops, he says. A bumper crop should only add to the pile. Frank Wideman, MU Extension natural resources engineer, says Bootheel-area farmers are already discussing alternative ways to store their corn this fall.
"A lot of the farming community would like to hold onto grain in hopes that prices improve over the winter," he says.
To that end, Wideman says farmers in his area are modifying existing structures such as machine sheds or hay barns. Although structures like this are not intended for grain storage, Wideman says farmers are working on fortifying them with wood and adding moisture-proof liners.
Other farmers are investigating plastic bag tubes that can hold grain for one season, he adds. This move can sometimes prove to be risky – fermentation is a risk, as is damage from birds or other animals, Wideman says.
Those intent on storing large quantities of the 2014 crop have a bit of math to do, explains University of Illinois ag economist Darrel Good. That's because if corn is stored and priced for later delivery, that price needs to exceed the cost of storage. The good news is, oftentimes out-of-pocket on-farm storage costs are low enough to incentivize on-farm storage if that is an option, he says.
After harvest, two factors drive corn prices, Good says - strength of demand and the pace of consumption.
"Corn consumption should be supported by a combination of strong domestic demand and the lowest prices in more than four years," he says. "If that is the case, corn prices would be expected to move modestly higher after harvest in a typical large-crop pattern. While there is still risk of lower prices, a little patience in pricing additional quantities of the 2014 crop appears warranted."
In the video clip below, FOX Business reporter Jeff Flock and Elburn Cooperative Regional's Howard Laube discuss what this year's massive corn harvest could mean for farmers.
Meantime, some market analysts, including Bob Utterback, say selling the 2014 crop is most likely going to be a multi-year puzzle.
"I think that 2016 is the earliest you can really get farmers to sell – in the spring of 2016 when the banks are saying, 'Hey, you've had two years of poor profitability – you have to get rid of the stuff," he tells AgDay TV in an August 22 interview.
What's your strategy for marketing the 2014 crop? Get ideas or share yours on the "Marketing 2014" thread in the AgWeb discussion forums.