New technology helps tires handle field conditions
Strong, sturdy cornstalks are like a double-edged sword. While they help boost crop performance, they also tend to shred combine, tractor and even truck tires, which can take a toll on overall profits.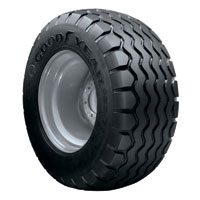 Goodyear FS24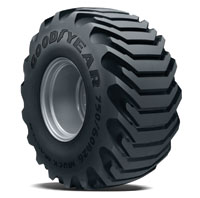 Muck Master Radial
Super Flot Radial
With improved durability in mind, Michelin and Goodyear Farm Tires, a Titan Tire Corporation brand, introduced new farm tires this past spring.

Goodyear introduced three new radial implement tire lines: the Goodyear FS24, the Muck Master Radial and the Super Flot Radial. The benefits of a radial design include higher load capacity and superb resistance to puncture damage, explains Justin Barnard, Titan sales representative.

Barnard says the large contact area of radials provides for better flotation and less soil compaction. With a longer footprint, the weight is distributed over more surface area, reducing the amount of ground-bearing pressure.

"The vast majority of implement tires out there are bias, but there are a lot of benefits to using radials on an implement," adds Jeff Vasichek, vice president of sales and marketing for Titan's Goodyear brand. "Today's farmers are traveling longer distances from field to field with increased loads. They are looking for a tire that can provide better roading and increased carrying capacity."
Radial does the job. The Goodyear FS24 is built for use with tow-behind implements, such as planting and tillage equipment. The tire, which is available in three different sizes, is rated to handle a maximum speed of 30 mph and loads of between 6,930 lb. and 9,650 lb., depending on the size.

The Muck Master Radial is built for heavy implements, such as grain carts and liquid manure applicators.

Massive lugs on the tire have openings to provide extra traction in slick, wet soil. The Muck Master is rated for a maximum speed of 30 mph and load of 13,900 lb.

The Super Flot Radial is built for use with implements that require high flotation, such as grain wagons, anhydrous ammonia tanks, manure spreaders, large hay balers and fertilizer applicators. The tire is available in five sizes. They are rated to handle a maximum speed of up to 30 mph and free-rolling loads of between 10,700 lb. and 18,700 lb., depending on the size.

Michelin introduced the SprayBib Radial, a VF-class tire (Very High Flexion) for sprayers. It has a high-load carrying capacity at a lower inflation pressure for less rutting and soil compaction while providing excellent traction and improved stability, says Michael Vandel, Michelin farm segment manager. The new design allows the tire to support 14,330 lb. at up to 40 mph while still requiring only 64 psi.

"The payoff anytime you can decrease the air pressure is you're decreasing the amount of pressure on soil compaction, lengthening your footprint, which improves your traction, and you have that tractor horsepower getting all the way to the ground, so you improve fuel economy," Vandel says.

The tire is designed to help farmers safely carry higher loads while traveling from one field to the next, he adds.

"The ride should be a little softer and farmers should notice a bit better control in the steering," he says, noting that the expected life of the tire is three to five seasons, versus one to two for competitive products.