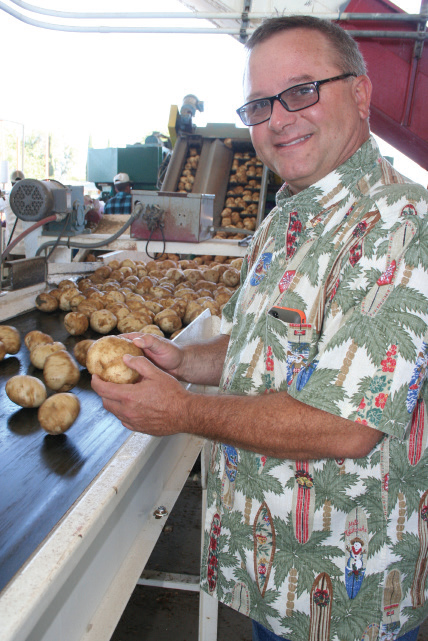 Tracy Ranch celebrates five generations of California farming
It took 150 years to earn it. The Tracy Ranch marked the rare sesquicentennial milestone in 2012. For the clan of Buttonwillow, Calif., it validated the struggles of five generations that kept the ranch afloat.
Now a thriving business spanning 9,000 acres, Tracy Ranch has come a long way since Ferdinand Tracy homesteaded there in 1862. The family relishes their history, but it's aware that 21st-century California is as fraught with uncertainty as it was for the first four generations.
"The ranch is a lot of responsibility," says Michael Frey, fifth-generation family member and ranch partner. "Times are good now, but they haven't always been. It could all collapse tomorrow if we lost our water. Everything is on the line, but we do what we can to manage that risk."
Diversification. Today, the ranch's approach to survival hinges on diversity. Under its modern name, Buttonwillow Land & Cattle Co., the partnership grows almonds, pistachios, potatoes, carrots, corn, alfalfa, wheat and cotton. No more than 20% of its acreage is planted to any one crop. That's a far cry from the ranch's early years. "For my dad's generation, it was all about economy of scale," says Frey, 47. "Now, diversification seems to pay better."
The ranch also partners on two cattle feedlots in the Texas Panhandle with a combined capacity of 55,000 head. Additionally, it's ventured into commercial real estate, with office buildings in Bakersfield and an oceanside hotel in Pismo Beach, Calif. "We're still in a learning curve on that," Frey says.
Almonds and pistachios have emerged as the ranch's profit leaders. First planted in 1996, the almonds took four years to mature. This year the youngest pistachios will produce their first marketable crop. The two nut crops occupy the biggest share of cropland at 1,400 acres each. "The trees have worked out much better than we projected," Frey says. "It's not pay, pay, pay anymore."
The potatoes are grown on contract for Frito-Lay and In-N-Out Burger, while the carrots are marketed to Kern County's Grimmway Farms and Bolthouse Farms. "You don't hit a home run when you grow on contract, but you get consistent, solid performance," Frey says.
Family First. Behind the diversification are 10 family partners. Five are fourth-generation first cousins: brothers Bill and John Tracy, brothers Wes and J.B. Selvidge, and Larry Frey (Michael's father). They've been partners since 1971, when they returned to the ranch fresh out of college. The other five partners are fifth-generation members Mike and Jack Frey, Todd and Rob Tracy, and Jason Selvidge.
Each has his own area of oversight and the group meets monthly to discuss operations. "Even though our family is large and tries to work as a unit, it's important that each individual has the freedom to do things he thinks are right, even if it means going out on a limb," says Wes Selvidge.
Change Evident. Earlier generations of the Tracy family would probably recognize the old  homestead shack, the 19th-century barn and the tall eucalyptus trees that still stand. But the Tracy Ranch couldn't be more different. There are more crops and acres, a potato packing shed, computers and tractors that use GPS-guidance systems. Crops grow on laser-leveled land and orchards rely on a sophisticated drip irrigation system. "Technology has been the biggest change, even over one generation ago," Frey says.
But challenges remain, with none as worrisome as the ranch's water supply. Underground pumping and surface deliveries from the California Aqueduct irrigate the ranch, but it's vulnerable to drought, environmental demands and legal rulings. Ranch partners Todd Tracy and Jason Selvidge stay close to the water situation by serving on local water district boards.
Other challenges include stringent state and federal regulations governing water and air quality, food safety and labor management. "If we weren't already in farming, that would be a real barrier for entry," Michael Frey says.
The trump card for survival lies in the family. "Our family rallies around each other when adversity hits," he says. Only time will tell what the future holds for the Tracy Ranch. "Every generation of our family has brought something new to the table," Frey adds.