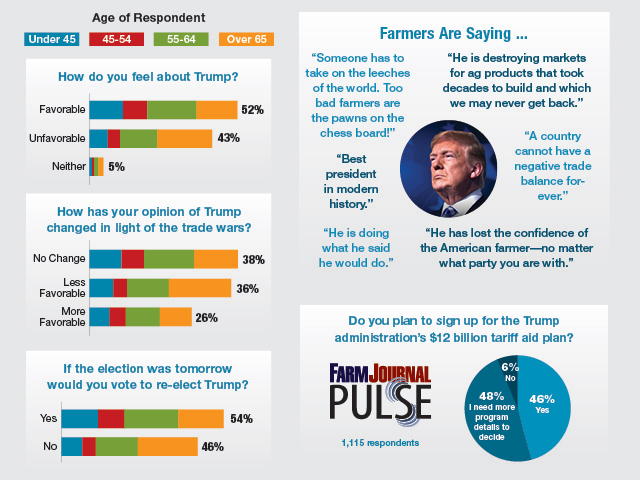 All presidents take heat for their actions, although not since Jimmy Carter has a president challenged trade and eroded support with the same magnitude. More than 80% of farmers voted for President Donald Trump in 2016, yet the latest Farm Journal research shows only 54% would vote for him again and 43% view him unfavorably. In addition, 36% view him "less favorably" than they did before the trade wars.
This research, which captured sentiments of 2,300 farmers, shines a bright light on facts that contradict mainstream reports that "farmers remain with Trump for now," as recently proclaimed by Bloomberg.
As you can imagine, feelings about Trump and his trade decisions are strong from both sides.
---
What is Known About Tariff Aid?
In mid-July, USDA announced a $12 billion tariff aid package to help farmers bear the brunt of the trade war. The funds will be paid out through three programs administered by USDA under the Commodity Credit Corporation Charter Act. The market facilitation program would result in farmer payments, which will be based on actual 2018 production data, so payments won't be able to be calculated until after harvest. The food purchase and distribution program would purchase surplus goods going to nutrition programs, and the trade promotion program will provide private sector assistance to new markets. The funds will not be equally distributed among crops and products.  
To keep up with details from USDA, including the sign-up process likely to be released closer to Labor Day, visit AgWeb.com.