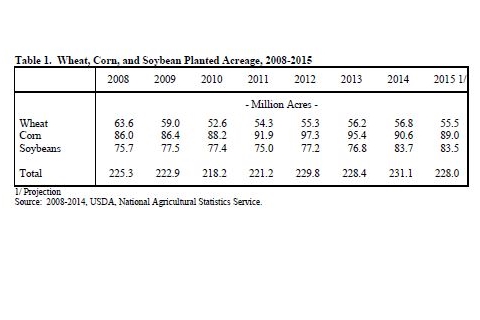 After announcing projected soybean acreage numbers on Thursday that caught the trade by surprise, the USDA on Friday released its more detailed commodity outlooks—and the rationale behind them.
What appears to be the biggest factor in the USDA's projections? The generous worldwide grain and soy supplies, which continue to force prices down. "With lower returns, plantings of wheat, corn, soybeans, and rice are all projected to decline; however, the reduction for soybeans is limited as producers look for lower cost cropping alternatives, particularly for cotton and corn," according to the agency's official outlook.
Based on that perspective—and other data—the USDA said it expects farmers to plant 89 million acres of corn, 55.5 million acres of wheat, and 83.5 million acres of soybeans in 2015/16.  While the new corn and wheat numbers barely caused a ripple, the trade was taken aback by the unexpectedly low acreage figure for soybeans.
"It's a baseline number. It's a place to start, and we build and add from there," cautioned Tommy Grisafi of Advance Trading on U.S. Farm Report. "Things never work out like they look like they are going to .... so we start from there. We start penciling those numbers, but I think the bean number was the shocker. ... I think you have to take these numbers with a grain of salt."
Listen to Grisalfi's comments, along with Allendale's Brian Splitt, on U.S. Farm Report:
As USDA economists presented their commodity outlooks on Friday, they highlighted what they think makes this spring different from 2014 for soybean producers:
Bigger U.S. ending stocks: 385 million bushels (projected) vs. 92 million in 2014.
Larger Brazilian Oct. 1 stocks: 24.8 million metric tons vs. 16.5 million metric tons in 2014.
Lower average price: $9.93 vs. $14.65 in 2014.
Flat soy/corn price ratio: 2.5 vs. a rising 3.1 in 2014.
Brazilian currency values, with a weakening real in 2015 vs. a strengthening real in 2015.
Top Third Ag Marketing's Mark Gold was one of many analysts who expressed skepticism. "The American farmer is looking for where he can make the money. And he thinks he can make more money with soybean than with corn," said Gold. "He is not going to let his land go idle."
Gold, who noted that the soy/corn price ratio still favors soybeans, expects farmers to plant between 87 million and 88 million acres of soybeans this year.
Analyst Dan Hueber, who traveled to the USDA event from his office in Illinois, also found the USDA numbers unrealistic. "There is no strong historical correlation to the reports offered [Thursday] morning and the Prospective Planting report that will be issued at the end of March," Hueber wrote in more detail in his blog. "While I could never get on board with some of the more extreme estimates of increased bean acres for this coming year, I continue to believe we could see a shift to 1 million to 2 million more acres than last [year] for no reason other than it requires less capital outlay than corn in a year when neither crop is offering much in the way of return (if any) at this point in time."
Rich Nelson, chief strategist at research firm Allendale Inc., agreed.
"We believe USDA is misguided in using traditional economic models to determine acreage this year," said Nelson. "Acreage changes this year will be determined by one issue, cost to plant. We expect Allendale's farmer survey, to be conducted between Feb. 23 and March 6, to confirm the private trade's strongly held belief of more soybean acres."
Those farmers who do plant soybeans will need to keep their pencils sharp, though. "Brazil is a very strong competitor," said Michael Cordonnier of Soybean and Corn Advisor, who presented at the conference. (To see the slides from his presentation, click here and scroll down to "Commodity Outlook: Grains and Oilseeds.")
In his remarks, he noted that South American soybean acreage is rising, yields are increasing, plant varieties are improving, agronomic knowledge is growing, and the transportation infrastructure—roads, highways, ports, waterways—is expanding dramatically.  "Brazil has the capacity to become the number-one commodity exporter in the world," Cordonnier said.