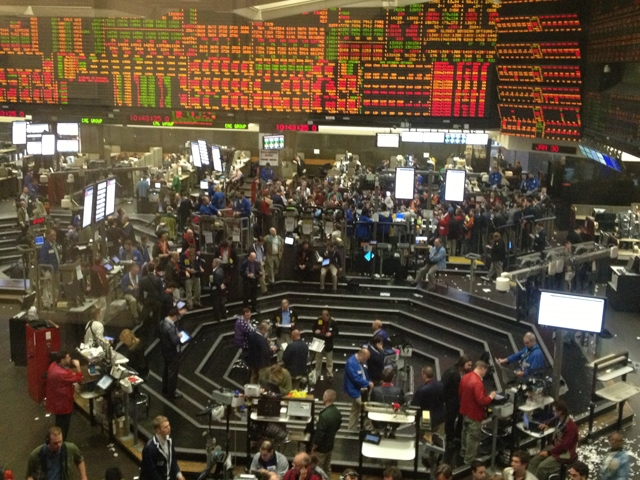 Jack Cappello has groomed Wall Street since 1959. He's seen a lot of changes in half a century of being a neighborhood barber.
Another is coming this summer as CME Group Inc. moves ahead with plans to shut most of its futures pits.
Cappello, 72, owns Jack's Unisex Corp., now in a glass- covered corridor just steps above the Hudson River. He got the word about the pits from a New York Mercantile Exchange trader who stopped in for a shave before the market opened Thursday.
"They are shutting down; I hope it doesn't happen," the barber said. "We lost more than 50 percent of our business" as Nymex scaled back pit trading in the past seven years.
Chicago-based CME said the futures pits on trading floors on the Nymex and Chicago Mercantile Exchange would close by July 2 because they account for just one percent of futures volume as business migrates to electronic trading. Options pits will remain open.
E-mails were sent to members Wednesday night and announcements were made on the trading floors the next day, Chris Grams, a spokesman for CME, said in an e-mail. "We are holding member meetings in Chicago and New York in the next week to discuss the trading floor transition."
The wintry weather and overcast skies outside the Nymex on Thursday morning matched the mood on the trading floor.
"It's a little depressing, but we have to find out at our meeting next Wednesday what the specifics are on what they are going to allow us to do," Roger Smith, who became a Nymex member in the mid-1980s and trades through his floor brokerage firm Smith & Moore, said Thursday during a cigarette break after the opening bell. "It was kind of a surprise, but it's inevitable."
Empty Chairs
Cappello's business has changed as Wall Street banks dispersed their offices into midtown Manhattan or New Jersey and pushed some support positions to other states. Historic buildings and many skyscrapers in lower Manhattan have been gutted to create residential units and hotels, while much of the new World Trade Center will be occupied by non-financial companies.
Futures pit trading has been slowing over the past six or seven years, with customers migrating to electronic trading, said Smith, a 60-year-old copper trader, who was wearing his green member jacket. "At some point, we knew they were going to pull the plug."
On any given day, there may be 200 people on the New York floor, including futures and options traders, clerks and CME staff, Grams said. There are about 75 traders and clerks in the futures pits -- an estimate because many of them trade electronically and don't come to the floor each day, he said.
Options Trading
John Woods, the 53-year-old president of JJ Woods Associates who trades natural gas futures, said he doesn't anticipate options trading will shut because those pits account for 15 percent of volume.
As open outcry volume decreased over the past several years, Nymex consolidated trading into a smaller area of the floor.
"It's been a ghost town in general" for the past three years, said Woods, who has been trading since he was 25. "Everyone knew we were on borrowed time. I've scaled down a lot over the past few years."
He blamed the demise of the pits on such things as the rise of over-the-counter trading along with more stringent rules and transparency requirements that other markets may lack.
Exchanges are catering more to high-frequency traders relying on algorithms, squeezing profit margins on the floor for futures and options traders, said Peter Kelly, 62, who started trading in 1976 on the Chicago Board of Trade with Kelly Grain Co., founded by his father.
'Something Special'
"Electronic trading is faster than pit trading, but it's not cheaper and it's far less transparent," he said. "We have lost something special."
CME will hold a members' meeting on Feb. 11 to discuss the announcement and what it will mean for traders, said Woods and Smith.
The exchange owner is indicating that futures traders will still be able to do business on the floor but trades will be executed electronically or through ClearPort, Smith said.
"There just won't be any open outcry," he said. "It doesn't make sense. It would be the equivalent of leasing office space from them."
Some traders are considering changing careers.
James Burns, 47, an independent trader and order-filling broker in Chicago hog futures, will lose his brokerage income and is not sure what he will do. He says he likes to cook and has already been looking into the possibility of opening a restaurant.
Life-Changing
"It's a life-changing moment, not by choice," said Burns, who began as a runner in 1987 and bought membership in 1990, following a family tradition dating back to 1884. "It's an adrenaline rush. Hog futures are a niche market that's suited for pit trading, unlike Eurodollars and currencies."
Woods cut his staff down to one from 10 over the past five years. He's been spending less time on the trading floor since June 2013 to focus on starting a biofuels company in Central America.
"I'll still trade," he said Thursday. "I can't get it out of my system."
Cappello plans to keep running his shop. The Sicilian first entered a barbershop when he was 6 and gave his first shave at the age of 9 before migrating to the U.S in 1956.
"This is the last stop for me," the bald septuagenarian said.