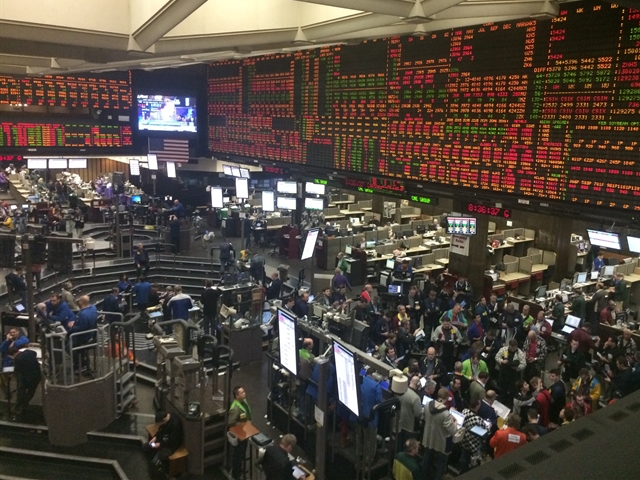 Marty Greenberg spent 20 years flailing his arms and shouting buy and sell orders in the silver pit at the Commodity Exchange in New York. After retiring, he joined a club that included famed Miami Dolphins quarterback Dan Marino.
One day Greenberg asked Marino if he missed suiting up for the NFL. Marino turned the question around and asked if Greenberg missed trading in the raucous open-outcry pits.
"Only every day," Greenberg replied, he said in an interview Wednesday.
That era has finally ended after CME Group Inc. announced Wednesday it will close most of its futures pits in Chicago and New York. The move deals a death blow to trading floors that grew in the 20th century alongside America's agriculture, mining and energy industries and were once synonymous with capitalism.
With open outcry trading dwindling to just 1 percent of volume at CME, the owner of the Chicago Mercantile Exchange and New York Mercantile Exchange decided to shutter nearly all its trading floors by July 2, according to a statement from Chicago- based CME. The exceptions include Standard & Poor's 500 Index futures as well as some options on futures.
"It was only a question of time," said Darrell Duffie, a finance professor at Stanford University and Bloomberg View contributor. "It has taken this long mainly because CME has shown some loyalty toward market participants whose livelihood has depended on their participation in open-outcry trading."
'Amazing Place'
The rise of computers triggered the decline of floor trading beginning in the 1990s, said Craig Pirrong, a finance professor at the University of Houston.
"The floor in its heyday was an amazing place," he said. "Despite the seeming chaos, it was an incredibly efficient way to buy and sell." Yet in-person trading was a technology that hadn't been updated since the 1860s, when Chicago served as the birthplace for derivatives.
Though CME's Chicago trading floor has its roots in the 19th century, the pits at the Merc and the Chicago Board of Trade -- which CME bought in 2007 -- also spawned many of the high-frequency trading firms that now dominate computerized markets. Former floor traders Paul Gurinas and Bill DiSomma created Jump Trading LLC, one of the most prolific trading firms in the world.
The frenetic shouting, gesticulating and jumping -- which Gurinas and DiSomma allude to in the name of their firm -- that's used to buy or sell futures made their way into popular culture. "Ferris Bueller's Day Off" featured a scene where the main character proposed to his girlfriend while overlooking the Chicago Board of Trade.
Orange Juice
A previous floor of the New York Board of Trade, located in one of the buildings of the World Trade Center, was used to film scenes for the 1983 movie "Trading Paces," which starred Dan Aykroyd and Eddie Murphy. In the film, two brothers attempt to manipulate the market in orange juice futures. Intercontinental Exchange Inc., which bought the NYBOT in 2007 and re-named it ICE Futures U.S., closed the floor in 2012.
Few exchanges still maintain spaces where humans interact. The New York Stock Exchange and its iconic Wall Street headquarters is the exception in the U.S. equities market, where buying and selling mostly takes place on electronic trading systems housed in data centers. The last remaining trading floor in Europe belongs to the London Metal Exchange, which was once located above a hat shop in the city's financial district.
There are about 300 traders and clerks in the Chicago futures pits and about 75 in New York, according to Michael Shore, a CME spokesman. Many of them already trade electronically and don't come in every day, he said.
'Wasting Time'
"The good news is I moved my hedge fund to Texas last week, so I think my timing's pretty good," said Tres Knippa, a former pit trader and floor broker at the CME who now runs Kenai Capital Management in Dallas. For anyone who was still on the floor, "they were wasting time anyway because the bulk of the business was done on the screen," he said.
The CME decision affects products including contracts linked to metals, energy and agricultural commodities. In the past decade, CME bought the Chicago Board of Trade and consolidated their Chicago trading floors into one location. Many of the posts had become mostly empty in recent years as traders shifted to electronic platforms, including CME's own Globex system.
All options traded at CME will retain an open-outcry component, except for contracts on the Dow Jones Industrial Average and Nasdaq-100 Index.
"The writing has been on the wall," Don Roose, president of U.S. Commodities Inc. in West Des Moines, Iowa, wrote in an e-mail. "Option pit volume remains larger and thus more viable. For now."
Pirrong likened the loss to another blow to Chicagoans, the death last month of Ernie Banks, the beloved, longtime Chicago Cubs baseball player nicknamed "Mr. Cub." 
"Although I understand this completely as a business decision, as a Chicagoan who knew the floor in its glory times, this is a melancholy day," Pirrong said. "To lose Ernie Banks and the floor within the span of a few short days is very sad."
What do you think about the end of the trading pits? Have you seen them in action? Share your thoughts on the AgWeb discussion boards.