Tips to help the leadership hat feel more natural

Farmers who have added several employees to the business might need to transition how their time is spent. Accustomed to wearing many different hats, such as the financial analyst and agronomist hats, the leadership hat might not feel as comfortable.
Barb Dartt, a founding partner of GROW: The Family Business Advisors, says when transitioning into more of a leadership role, the change has to occur primarily in your head. "As farmers, you'll continue to wear many hats," she says. "Be aware of the hat that you're wearing."
Farmers should recognize when they are uncomfortable, which will be more often in the beginning, and not let old habits set them back.
"It's not bad to feel uncomfortable at first," Dartt says. "The leadership hat puts you in a more strategic role. You have to be deliberate and intentional with your actions."
Leaders intentionally empower others to step into problem-solving roles. This means giving employees the opportunity to solve problems.
"When they come to you with a problem, ask: 'What would you do?'" Dartt says. "Tran­sition your role to that of a teacher." This means growing your ability to influence others and withdrawing from controlling the problem-solving process.
Larry Bodtke, who farms blueberries, corn and soybeans with his brother and sister in South Haven, Mich., began this transition about two years ago. Through Cornerstone Ag Enterprises, the Bodtke family operates in Oregon, Washington and Michigan and also owns a golf course and excavating business.
Bodtke says it's been a difficult move. "In transitioning to more of a leadership position, I've had to think about our vision, core values and culture that we want," he says. "This is much harder because it's abstract. I feel a certain amount of inadequacy because it's less doing and more thinking and coaching."
To help with the switch, Dartt advises focusing on the outcome and results—not the process.
"Stepping into this role requires you to really know your employees," she says. "You have to spend time with your staff and understand how they work. Get to know their strengths and weaknesses. This way, when they provide you feedback, you know how to filter it."
Shift Responsibility
Write down and define the expectations with those stepping into a role. "Here's what this is going to look like when we are done," Dartt explains. Then, let the employee know that you'll do it while he watches. Tell him you want three questions so he knows to pay attention. Let him know that you'll watch him do it for a set amount of time. Follow up with feedback. Ask him what he would do differently next time.
As you do this, Dartt says you must recognize the risk of the learning process. How much latitude do you give someone to make a mistake?
In making this transition, formalize your communication so people know what's going on. This might mean scheduling a weekly meeting. For Cornerstone Ag Enterprises, Bodtke hosts a four-hour leadership meeting twice a month. "We talk
about the future of the business, discuss ways to engage non-active family members and identify employees to groom for different positions," Bodtke says.
With time, Dartt says to extract yourself from the day-to-day activities, but you must plan how you will spend your time.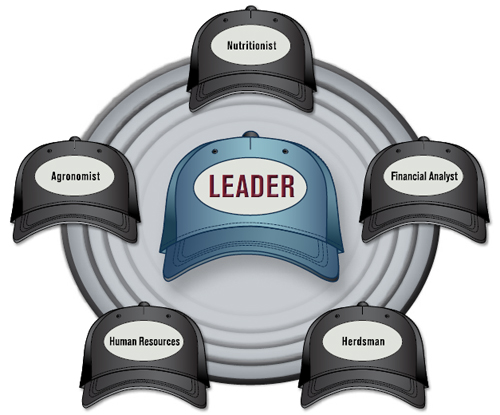 ---