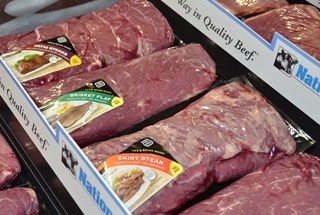 There's little relief ahead for record U.S. steak and burger prices. While cattle ranchers like Brenda Richards are expanding herds for the first time in almost a decade, it can take two years to get more meat on the plate.
After shrinking supply sent beef costs surging last year, the government still expects output to drop to a 22-year low in 2015. While ranchers are starting to breed more cows, calf gestation is nine months, with as much as 20 more before they are big enough to slaughter. Richards says she may increase her family's 600-cow breeding herd to as many as 650.
"It's a little bit of an expansion," said Richards, who has been farming in Reynolds Creek, Idaho, with her husband for three decades. "We've held steady for quite some time."
With supplies remaining tight, restaurant operator Ruth's Hospitality Group Inc. and Bloomin' Brands Inc., owner of the Outback Steakhouse chain, are forecasting gains in 2015 beef costs. Retail prices will jump 5 percent to 6 percent this year, more than any other food group and double the rate for all foods, the U.S. Department of Agriculture said.
The cattle herd on Jan. 1 in the U.S., the world's largest beef producer, was 1.4 percent bigger than a year earlier at 89.8 million head, the first increase for that date in eight years, USDA data show. The herd began last year as the smallest since 1952, after droughts from Texas through the Midwest dried pastures and pushed the price of feed corn to records in 2012.
Takes Time
Even as herd expansion starts, meat output probably won't rise right away. As of Jan. 1, ranchers increased the number of beef cows for breeding by 2.1 percent from a year earlier, rather than send them to slaughter. Commercial beef production will drop 0.1 percent in 2015 to 24.22 billion pounds, the fifth straight decline and lowest since 1993, the USDA said Feb. 19.
"Lower prices are coming, but it's going to be some time yet," David Anderson, a livestock economist at Texas A&M University in College Station, Texas, said in a Feb. 3 interview. "We've kicked off some expansion. It doesn't really change anything for 2015 in terms of our expected beef production."
The cash price for steers sold to slaughterhouses will average $1.57 to $1.67 a pound this year, up from $1.5456 in 2014, the USDA forecasts.
Ruth's Hospitality Group, based in Winter Park, Florida, will see beef costs jump 5 percent to 8 percent in 2015, Chief Financial Officer Arne Haak said in a Feb. 13 earnings call. Tampa, Florida-based Bloomin' Brands said Feb. 19 it expects a 10 percent increase, while Red Robin Gourmet Burgers Inc. said Feb. 13 its ground-beef costs will jump about 12 percent.
Chicken, Pork
A drop-off in demand may undermine the beef rally. Pork and chicken production will surge to records this year, which may "take some of the edge off" beef, said John Anderson, deputy chief economist for the American Farm Bureau Federation in Washington, D.C.
Cattle futures that reached a record $1.7275 a pound in November are down 10 percent this year on the Chicago Mercantile Exchange, heading for the worst start to the year since 1976. Wholesale beef that touched an all-time high of $2.6381 a pound on Jan. 14 have since dropped 6.6 percent. Prices are 14 percent higher than a year earlier.
"There are other meats out there that compete aggressively for the same consumer dollar," Anderson said in a Feb. 12 interview. "It's going to be difficult for beef prices to go up at the pace we've seen the last couple years."
Fuel Savings
Even with cheaper chicken and pork, beef demand may remain strong, especially after the plunge in U.S. gasoline prices, said Chris Hurt, a livestock economist at Purdue University in West Lafayette, Indiana. The average household will save $750 this year, the Energy Information Administration estimated, after retail pump prices tumbled 32 percent in the past year and in January were the lowest since 2009.
U.S. spending at food service establishments rose 13 percent in January compared with a year earlier, according to data from the U.S. Census Bureau. Grocery-store purchases climbed 3.7 percent.
Cattle rancher Ryan Sharrock says he's spending about $100 less per week to fill up his pickup truck than he did in June. After he cut back on beef buying last year, Sharrock is using some of his fuel savings to almost double the weekly spending on the meat for his family of five, to as much as $60. They eat it about three times a week.
"It sure makes it easier to put it on the table," said Sharrock, 33, who raises about 160 cows and calves in Patton, Missouri, 100 miles south of St. Louis.