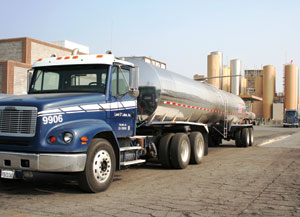 Falling crude oil prices carry both good and bad connotations for the dairy industry.
Due to a glut of U.S.-produced oil, crude oil prices have been falling for the past three months, which has both good and bad connotations for the dairy industry. While the cost of gasoline and other crude oil products will decline, transportation costs could actually increase.
Total U.S. crude oil production averaged an estimated 8.6 million barrels per day in August, the highest monthly production in more than 28 years. Total crude oil production, which averaged 7.5 million barrels per day last year, is expected to average 9.5 million barrels per day next year, a 45-year high, according to the U.S. Department of Energy. While that will help reduce the cost of gasoline, strong domestic production has its downside.
Booming oil fields spill into feed markets
"With pipelines full, oil companies have turned to rail to move much of the crude oil gushing from North Dakota's Bakken reserve and Texas' Eagle Ford shale formation," says Sarina Sharp, agricultural economist with the Daily Dairy Report, Chicago, Ill. "The booming energy industry requires a growing fleet of trucks to haul materials to and from the oil fields, which has left fewer rail cars to move grain out of the northern plains."
Truck drivers are also in short supply with 30,000 to 35,000 unfilled truck driver jobs in the country, according to the American Trucking Associations
While harvest has just begun, Midwest elevators are already reporting delays in rail car orders and a shortage of storage space, Sharp notes. Dairy producers who dairy in feed-deficit regions will likely face larger premiums this year to transport feed into their region.
"Dairy producers in the Corn Belt, on the other hand, will enjoy a wide basis, which is effectively a local discount against already low feed prices," says Sharp. "But they could also face delays if corn and soybean producers are reticent to sell at today's prices."
The domestic oil boom has also reduced the number of workers looking for agricultural work. "Energy companies are paying $30/hour or more for starting laborers without experience," Sharp says.
The disadvantage of shipping water
Another implication of the oil boom is that dairy cooperatives that once might have shipped milk to distant plants to maximize returns to their members are now more likely to keep local manufacturers full, even if more distant plants offer a better price.
"There is simply too much water in raw milk to justify a long-distance haul," says Sharp. "Processors with denser products are the least affected by the rise in hauling costs, but those who are far from population centers face higher hauling costs due to the rail and trucking shortage on top of already sky-high dairy product prices."

The dairy industry has long had the capacity to concentrate milk for transport by reducing its water content. A handful of large dairies and processors have implemented ultra-filtration (UF) or reverse osmosis (RO) technology and can concentrate milk at a 3:1 ratio.
"Processors who have UF or RO technology can purchase raw milk, concentrate it, and then haul it to the best market for further processing," says Sharp. "Consumers and manufacturers have been largely resistant to concentrated milk up to this point, but as hauling costs rise, they might have to reconsider. Processors can easily make cheese, for example, from concentrated milk, and consumers could come to appreciate reconstituted, bottled milk, if the savings are significant enough."