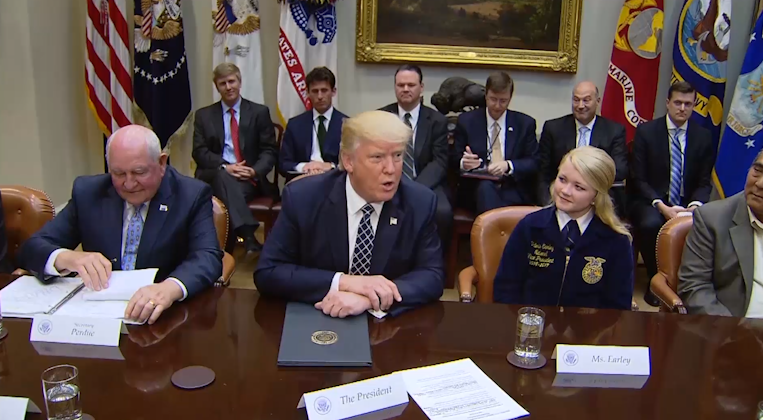 The latest 2018 federal budget circulating Washington calls for a $3.6 trillion slash in government spending over the next decade, including $38 billion less for farm supports that includes new limits on crop insurance premiums and caps for commodity payments, Reuters reports.
USDA would also see significant cuts to the Supplemental Nutrition Assistance Program (SNAP) – changes that director of the Office of Management and Budget director Mick Mulvaney told reporters Monday that lawmakers would need to make in the next farm bill legislation.
Additionally, the proposed budget could charge user fees totaling $660 million annually to help pay for USDA inspectors at meat and poultry plants.
Several crop insurance groups – including the American Association of Crop Insurers, Crop Insurance and Reinsurance Bureau, Crop Insurance Professionals Association, Independent Insurance Agents and Brokers of America, National Association of Professional Insurance Agents and National Crop Insurance Services – issued a joint statement regarding the cuts to crop insurance premiums.
"Weakening crop insurance and making it more difficult for farmers to bounce back during tough times will jeopardize rural jobs and will find little support in rural America or on Capitol Hill," the statement reads in part. "The rural economy is already suffering through a period of low prices and a multitude of spring weather disasters. Yet, the Administration's budget proposal targets the primary tool farmers use to handle these risks."
The groups also argue that proposed cuts to crop insurance by prior administrations were unpopular and "soundly rejected" by Congress.
"We fully expect that to be the case again this year, and we are hopeful to engage in meaningful dialogue about how to support America's hardworking farmers and ranchers in difficult times like these," the statement concludes.
Commodity groups such as the American Soybean Association also expressed their displeasure at the proposed cuts to federal crop insurance and commodity supports. As the ASA notes, the federal crop insurance program would be trimmed down by $28.5 billion under the White House's proposed budget. Additionally, the budget calls for almost $9 billion in cuts to the Agricultural Risk Coverage (ARC) and Price Loss Coverage (PLC) programs by reducing eligibility caps from $900,000 to $500,000.
"By shredding our farm safety net, slashing critical agricultural research and conservation initiatives, and hobbling our access to foreign markets, this budget is a blueprint for how to make already difficult times in rural America even worse," ASA president and Illinois soybean farmer Ron Moore said.
In a statement to USDA employees Tuesday morning, U.S. Secretary of Agriculture admitted, "There's no sugarcoating what we will face - USDA will likely see a significant reduction in funding."
Purdue later held a press conference, where he reiterated that he's dealt with budgets he hasn't liked before. Trump's proposed budget would take a 21% bite out of USDA's entire budget, which tallies up to $46.54 billion over the next ten years.
"We're going to do what it takes and go as far as we can in that attitude," he said.
Listen to the entire press conference below:
For additional AgWeb policy news, visit www.agweb.com/news/policy-news/.
5/24/17 Trump's Budget Plan Worrisome to Those in Ag