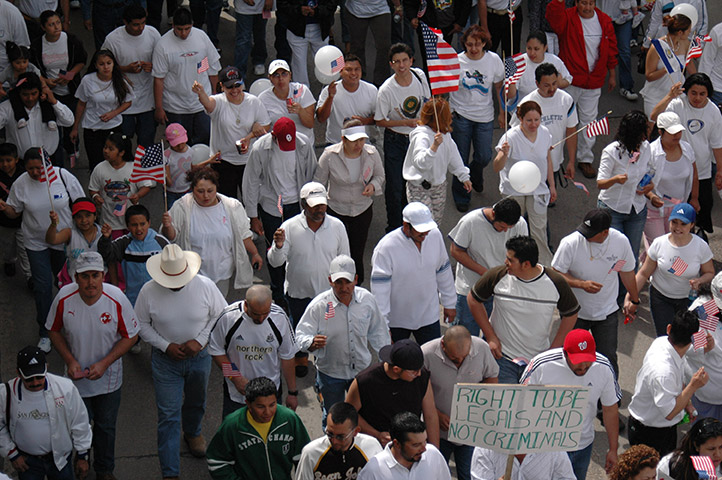 After a two-week recess, Congress returns to Washington with a full schedule and several pressing matters such as budgets and funding.
On Tuesday, President Trump said he would back down from his demand that the funding bill include fund to build a wall on the U.S.-Mexico border to avoid a government shutdown.
However, some farmers across the U.S. are worried that the administration's crackdown on illegal immigrants will deprive them of the workers they need because American agriculture depends heavily on foreign labor to plant, raise and pick crops.
Grapes grown at the Bethel Heights Vineyard aren't average table grapes, so they need special hand-picked care.
As President Trump's stricter immigration policy unfolds, farmers are getting worried they won't have the manual labor needed during harvest season.
Fears amplified after U.S. Immigration and Customs Enforcement (ICE) agents arrested 11 farmworkers in Woodburn, Ore. in February. Four of them now are facing possible deportation, striking fear through the immigrant community in Oregon and throughout the U.S.
"The first think I do in the morning is, as a Mexican, I sign the cross in the name of God," said Mariana Alvarez Florez, a farm worker. "The fear is like a barrier I have to overcome because I have rent and bills waiting."
According to a survey conducted by the USDA, immigrants working in the country illegally make up 67 percent of farmworkers in fruit and nut farms, 61 percent in vegetables, and 35 percent in nurseries.
"A lot of families are mixed," said Jeff Stone, executive director of the Oregon Association of Nurseries. "You may have a fully documented nursery worker but maybe their wife or parents are undocumented. When these enforcement actions come about any time you're driving from Woodburn to Portland, you're living in fear."
The nation's agricultural industry is bracing for a human and economic toll in the wake of an immigration crackdown.
4/25/17 Farm Worker Shortage as Immigration Talks Continue