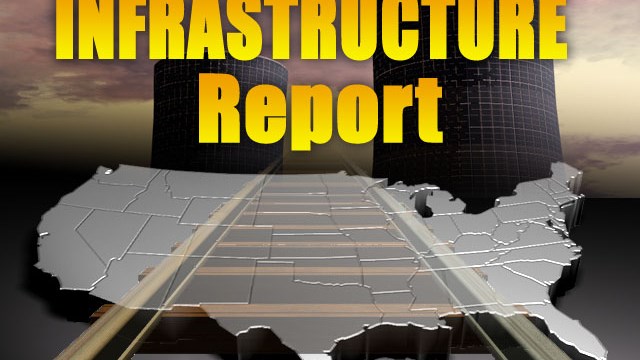 (Bloomberg) -- Half of the federal money in President Donald Trump's promised $1 trillion infrastructure plan would go for a new incentive program to encourage states and localities to secure their own funding for projects, according a draft copy of principles obtained by Bloomberg News.
A quarter of the federal funding would provide grants for rural transportation, broadband and other projects, while 10 percent would go for "transformational" projects that can't secure financing because they're so unique. Other dollars would be allocated for federal lending programs and a new capital financing fund for property purchases, according to the draft plan that is still subject to change.
The principles also call for expanding the use of tax-exempt private activity bonds to attract more private investment in projects, and other changes to help public entities and airports raise money, including giving states flexibility to add tolls to interstates.
The White House won't comment on the contents of a leaked document but says it looks "forward to presenting our plan in the near future," spokeswoman Lindsay Walters said. The details of the plan were reported earlier by Axios and Politico.
State of the Union
Administration officials have said Trump will release detailed principles for his infrastructure plan to start the legislative process close to his Jan. 30 State of the Union address. The framework being developed calls for allocating at least $200 billion in federal funds to spur as much as $1.6 trillion in spending by states, localities and the private sector.
The White House has been promoting a new "self-help" approach to encourage states and localities that own most public assets to develop their own sustainable funding, rather than relying too much on federal dollars.
Under the draft principles, federal agencies would solicit funding applications every six months from states or groups of states, territories, local government entities, non-profits and private entities with public sponsorship for core infrastructure projects. The proposals would be scored by how much non-federal funding is secured for construction, operation and maintenance. Entities that have already approved funding would get credit, according to the document.
Most of the funds made available for rural projects in areas with a population of less than 50,000 that can't generate their own funding would be provided to the governor of each state on a formula basis, according to the draft plan.
Water, Airport Projects
There also is a section for financing water infrastructure projects, inland waterways and allowing Veterans Affairs to improve facilities by allowing the agency to retain proceeds from the sale of properties and to exchange existing facilities for new ones.
The plan calls for steps to make it easier for airports to begin construction projects by easing approval for non-aviation work and streamlining how federal payments are made.
The Federal Aviation Administration currently provides more than $3 billion in grants for airport construction, which is drawn from aviation taxes.
Large commercial airports have steady revenue streams from rents and passenger charges that can be used to fund infrastructure projects. However, an effort to increase an airline ticket charge dedicated to airlines from the current $4.50 cap is opposed by airlines and so far hasn't passed Congress.
©2018 Bloomberg L.P.
1/23/18 Trump Administration's Infrastructure Plans