Tips to increase your odds for loan approvals and better terms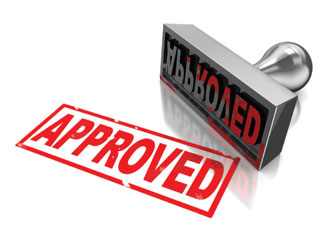 With corn prices hovering around breakeven, it's going to be more of a challenge to manage cash flow. Most farmers will get much needed operating capital for next spring's inputs with few issues. However, lenders are taking more precautions before rubber stamping loan approvals. 

"Not everyone received credit last spring and the number is likely to be higher this spring," predicts Mark 
Olson, CPA and partner with Conway, Deuth & Schmiesing, Willmar, Minn. 

To enhance your chances of receiving credit and attractive terms, lenders share these tips:
"Be prepared and know your numbers," advises Nate Franzen, president, agribusiness division, First Dakota National Bank.  
Lenders want producers to bring three sets of financial reports to their winter appointment: their balance sheet; income and expense statement; and cash flow budget.  

In addition, Franzen suggests farmers pencil out three cash flow budget scenarios—most likely, best case and worst case—and what adjustments they will make under each scenario. Coming to a lender appointment armed with such numbers and strategies puts lenders at ease knowing they are dealing with a financial-savvy farmer.

"We understand in agriculture, there will be periods when profitability is not possible," Franzen explains. "Our standards don't change, though." 

First Dakota National Bank is paying more attention to stress testing loan portfolios. Franzen is particularly concerned about 6% to 8% of the bank's portfolio and says some in this group will have to make financial changes before loan requests are approved. 
Farmers who notify lenders early with a cash flow problem and proposed solution will have more options than those who wait until they can't make a payment. 
Some farmers would benefit from  hiring a financial consultant. "Spending money to make your finances better is a good investment," Franzen says. 
Even with low prices, producers have options to reach a positive cash flow. For example, renegotiating loans can shave production costs by 50¢ to $1 per bushel. Selling land can create working capital. For one of Franzen customers, selling 240 acres reduced breakeven on corn from $4.75 to $3.75 per bushel. If this is a viable option, execute sooner rather than later.
Implement a marketing plan. While some pre-sold 2014 crops at a profit, as much as 75% of grain is still unpriced. Because about 90% of working capital is held in grain inventories, for a 2,500-acre corn operation, the change in inventory value from March to September 2014 was as much as a million-dollar hit on working capital.   
Highly leveraged farmers without adequate working capital might need operating loans this spring, says Andy Huneke, director of leasing and trade credit, AgStar Financial Services. Federal Reserve Bank data predicts loan requests this winter will be the highest since the 1970s. 
Huneke stresses the importance of getting all costs as low as possible. "If not, the burn rate on working capital increases; some have a burn rate of $50 per acre," he adds.  
How much working capital do producers need? Somewhere around $250 per acre, Huneke thinks.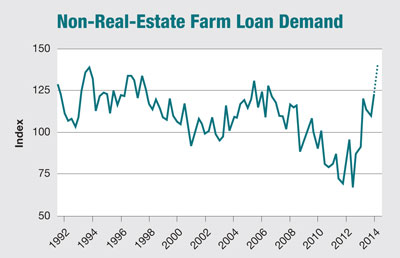 Requests for operating loans has increased sharply since 2013, and bankers expect loan requests this winter will be the highest since the 1970s.