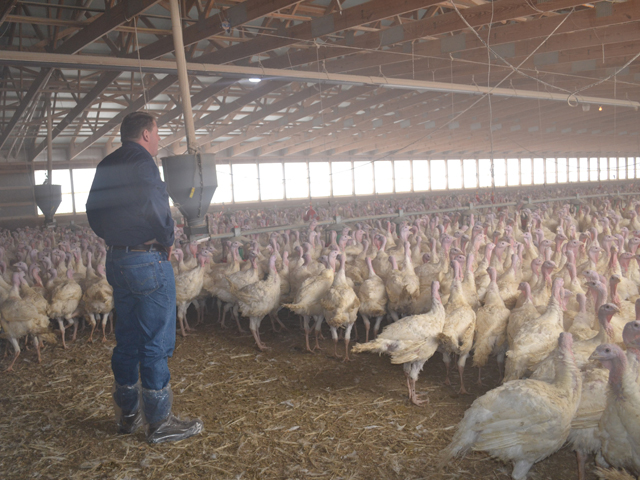 For turkey producers like Jeff Smith, 2014 is one in which he will be giving an abundance of thanks.
"2014 has been a great year, probably one of our best," says Smith, of Holland, Michigan.
This is a nice change, as recent years were full of challenges. As grain farmers enjoyed what some consider the "glory years," it meant high input costs for livestock producers.
"2011 and 2012 were tough," he says. "$8 corn, $550 soybean meal: that bled us, man."
Watch the full AgDay report:
Lower feed costs have been a big blessing, but even more than that, it's record high turkey prices from a shortage of the white meat. In U.S. Department of Agriculture's latest forecast, the agency pointed to a two percent drop in production just this year. With fewer birds available, prices continue to shoot higher.
"Turkey prices are at an all-time high right now," says Smith. "It's just the whole protein sector. There's no meat."
As Smith mentioned, it's not just turkey numbers that are down. The cattle herd is at its lowest level in 65 years. Couple that with Porcine Epidemic Diarrhea Virus (PEDv) wiping out baby piglets, and meat is in high demand.
"All that meat never hit the market that the hogs would have produced, and people are just turning to other things to meet their needs," he says. "It's been huge."
As the market plays in Smith's favor, he's finally looking at expansion next year. While there are mixed views on how quickly expansion will hit, Smith is going with a conservative approach.
"We're pretty scared yet," says Smith. "You look back a couple years ago: $ 8 dollar corn. Even last year, the price of corn came down, but the price of soybean meal was at an all-time high just two months ago."
Expansion will be slow on Smith's farm, but he's not sure other producers feel the same.
"I think there's a lot of people sitting behind their desk right now that are starting to push pencils and saying 'can we do it," says Smith. "That's going to be huge, if we can keep our production under wraps to keep it profitable."
He still has to get through 2014, as the scenery outside Smith's barn looks more like Christmas than Thanksgiving. With a foot of snow on the ground, winter's early arrival could further eat into 2014's profits.
"Looking back to last winter, we went through just about our whole year's heating budget in two months," says Smith. "Here we are in November and our heaters are cranked up already."
Smith is used to the rollercoaster of livestock production, as profitability looks different each year. Despite that, Smith is hopeful for what's in store in 2015.
"We will be blessed again in 2015," he says. "I'm sure there will be challenges, but hey, we're in the ag industry, there's always challenges."
Some of those challenges come from his biggest customers: consumers.
"The public seems to think we're pumping antibiotics from day one, but I can assure you, from a poultry producer, it's not happening," he says. "Just like when your kids get sick, you know, you got to do something, and it's therapeutic, that's it."
When Smith's grandfather started the business in the 1950s, it was more fun than business. Three generations later, consumer demand and market movements are much different
"It's just a lot more intense today than it used to be," says Smith.
He's thankful the operation has been alive for three generations and wants consumers to know animal care is always a top priority. So, as Americans sit around the table, giving thanks for all that's been provided throughout the year, Smith says make sure farmers are on that list.
"You're eating the safest food in the world," he says. "We take great pride in what we do."
That's why his advice for the perfect holiday meal is simple: make two turkeys.