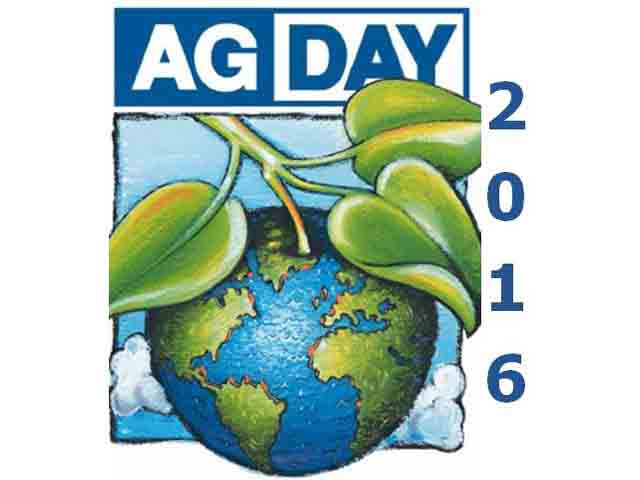 It's National Agriculture Day!
Today is National Ag Day, a day when producers, farmers, ranchers, agriculture associates, corporations, universities, government agencies and anyone else associated with ag join together to recognize and celebrate the amazing contributions of agriculture.
Agriculture touches the lives of everyone, everywhere, no matter your demographic and today is a day to appreciate the abundance provided by ag.
Here's what people are saying on Twitter:
Happy #NationalAgDay! Agriculture provides so many career opportunities, from food science to education. Join us in celebrating! #agday2016

— AgHires (@AgHires) March 15, 2016
Happy #NationalAgDay!

Strong American farms = strong American manufacturers! pic.twitter.com/mNGZQ4Ow93

— I Make America (@IMakeAmerica) March 15, 2016
@ucdavisvetmed's Dr. Terry Lehenbauer discusses #antbiotics as a necessary tool in cattle production #NationalAgDay https://t.co/qtlu8YUUZc

— chase crawford (@chaseacrawford) March 15, 2016
Did you know it is #NationalAgDay? pic.twitter.com/7gCvVuzGTl

— Texas FFA (@TexasFFA) March 15, 2016
Today we celebrate and thank all the people that work to feed the world. #nationalagday pic.twitter.com/38dMQHaOQ8

— Iowa Corn (@iowa_corn) March 15, 2016
Celebrate #NationalAgDay with @NPPC! https://t.co/lEUeB7VGx1

— Cara Cramer (@cara_cramer) March 15, 2016
Thank You to all those who help Feed, Fuel and Clothe America & the rest of the world!! Happy #NationalAgDay #agtalk pic.twitter.com/9uuDbsxawP

— Lance Schroeder (@AsphaltCowboy11) March 15, 2016
Happy #NationalAgDay! If you plan on eating today, be sure to thank Florida's hardworking farmers and ranchers. pic.twitter.com/CAOy3WZtqM

— Adam Putnam (@adamputnam) March 15, 2016
It's #agday2016! Let's celebrate agriculture not only today, but every day!Looking forward to all the posts today! #NationalAgDay #WIAgProud

— Becca Hilby (@reb_hilby) March 15, 2016
We want to wish you all a happy National Agriculture Day! #NationalAgDay pic.twitter.com/NwCNRpkSDw

— Neale Farms (@nealefamilyfarm) March 15, 2016
Join the conversation on Twitter and show your ag appreciation on National Ag Day!