Shared vision allows Idaho family to successfully transition the farm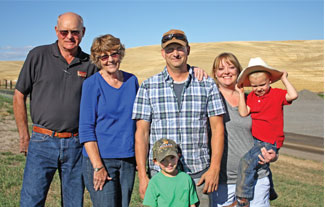 Keeping the fifth-generation farm in the family was the primary goal for Kurt and Sharon Blume, their daughter Jillann Poxleitner and husband Brett. Photo by Sara Schafer
Kurt Blume has a sense of peace he wishes other farmers his age could experience. After years of challenging and time-consuming efforts, the Idaho farmer and his wife, Sharon, have a clear vision and plan for the future. 

One of their four children, Jillann Poxleitner, and her husband, Brett, have taken over the reins of the 125-year-old wheat, barley and garbanzo beans operation near Genesee, Idaho. 
Through the process, the family stayed focused on their "North Star." They worked with Michael Stolp, vice president of market research and development at Northwest Farm Credit Services, to help them define their North Star—the guiding light and overall purpose for the process, which was keeping the farm in the family. 

Stolp led the family in an intense two-day meeting where they identified personality types, perspectives and created a safe environment for conversation. They performed a S.W.O.T. (strengths, weaknesses, opportunities and threats) analysis for the current operation and defined personal, financial and relationship goals. 

The discoveries were the foundation for their strategic plan. "Our goal is to orient a succession and asset plan around a shared vision," Stolp says. "If you don't, you let the tail wag the dog."

Brett left a 14-year career to becomethe primary farm operator. He and Jillann have official leases for the equipment and land. Roles and duties are defined and have transitioned from Kurt and Sharon to Brett and Jillann. 

Jillann admits the process is nerve-wracking. "One of the many things that made me really nervous the first year of farming was that the landlords wouldn't have the trust or faith in us," she admits. To ease these worries, they organized individual meetings so the landlords could meet Brett and Jillann.
Goals can change in the process. When the family first started their transition plan, Brett  and Jillann both planned to leave their off-farm jobs. Then Jillann started a new job and decided she enjoyed it too much to leave. The family adjusted the plan, and Jillann assists with bookkeeping and duties that can be done outside her off-farm job. The health insurance and extra income is a plus.  
Succession planning is difficult, Kurt shares. "I dreaded it. It was one of the hardest things I've had to do," he says. "But, we've learned to bend with the breeze." 
---
Keep Off-Farm Family Members Informed
When there are on- and off-farm children, such as in Kurt and Sharon Blume's family, open communication and transparency during succession planning is a must. Michael Stolp, Northwest Farm Credit Services, recommends on-farm family members meet and draft the plan, then brief off-farm family members in person or virtually. 

If this isn't done in a professional and comprehensive way, it can become a bad game of telephone, Stolp says. 

Luckily for the Blumes and Poxleitners, family harmony has stayed intact throughout the process. "The rest of the family is just as passionate about keeping the farm in the family as we are," Sharon says. "They are very thankful Jillann and Brett could step in."