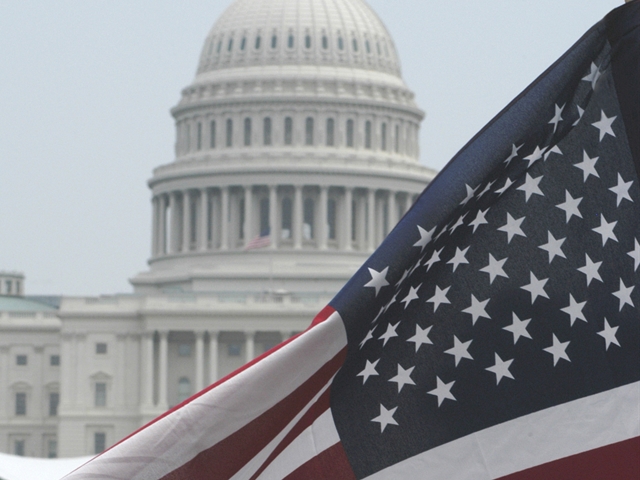 Viewers watching the U.S. presidential debates this month have been treated to two radically different prognoses and prescriptions for the U.S. immigration system.
In Democratic forums, Hillary Clinton and Bernie Sanders argue that deportations are ripping apart hard-working undocumented people who are merely trying to make a good life for their families, and that the president must show them mercy, even if it means stretching the limits of the law.
In Republican debates, led by front-runner Donald Trump, the southern border is described as open and unenforced, with the immigrants who pour across it illegally taking jobs from Americans, driving down wages, and even committing murder in the process. The answer, to hear Republicans tell it, is an immediate crackdown.
For the estimated 11 million undocumented immigrants already in the U.S., the outcome of the debate could mean the difference between relief from a life lived in the shadows and a rush to mass deportation.
"Leading Republican presidential candidates favor mass deportation and leading Democratic presidential candidates oppose most deportations," said Frank Sharry, an activist with the pro-immigration America's Voice. "The GOP wants to stop executive actions that will benefit undocumented immigrants and Democrats want to enact them and go further. Republicans have lurched right and Democrats have leaned in. What was once an issue ripe for bipartisan cooperation has become a partisan dog fight."
One of the reasons that immigration is shaping up to be a defining partisan issue for the general election is that it has become entangled with larger economic and national security debates. 
"In recent presidential elections, the immigration issue did not rise to the top of salient issues. I think that this election could be different because Mexican immigration has conflated with the refugee crisis in Europe, the effect of free trade on U.S. workers, and the weak wage trends of the US blue collar workers," said Bruce E. Cain, a political scientist who teaches at Stanford University. "Clinton has been pulled to the left, most recently in recent debate to the left of the current administration's policies with respect to deportations. So yes, this will be the largest contrast on this issue in a presidential election in decades."
Republican Restrictionism
Trump has called for deporting all undocumented immigrants, building a wall on the Southern border, and cutting legal immigration levels. Republican rivals Ted Cruz, Marco Rubio, and John Kasich agree that the top priority on immigration must be to close the border.
"I'm not playing to anybody's fantasies. I'm playing to the fact that our country is in trouble, that we have a tremendous problem with crime. The border is a disaster, it's like a piece of Swiss cheese," Trump said at a March 3 debate. "We're going to stop it, we're going to stop people from coming into our country illegally. We're going to stop it."
As the base has flocked to Trump's immigration restrictionism, Cruz and Rubio have endorsed building a wall on the U.S.-Mexico border. Cruz has gone from supporting an expansion of legal immigration in 2013 to calling for restricting it, while Rubio has endorsed tightening the system to ensure that criminals and terrorists don't exploit it.
In their immigration policy blueprints, Trump and Cruz have called for new restrictions on H-1B visas for skilled guest workers, taking aim at a business-backed program that faced scant Republican skepticism just three years ago.
In a March 10 debate in Miami, the Republicans were grilled about cutting legal immigration. Trump called the H-1B skilled work-visa program "very, very bad for workers" in the U.S. Rubio said "we should be stricter in how we enforce it" so U.S. companies prioritize hiring American workers. Cruz lamented that the U.S. is "bringing in far too many low-skilled workers. What that is doing is driving down the wages of hard-working Americans. Our system isn't working."
Democratic Openness
The two Democratic candidates, by contrast, are competing over who would be more welcoming to immigrants. In a March 9 debate held just eight miles away from where the Republicans gathered the following night, Clinton, the front-runner, made the unusual move of criticizing President Barack Obama's deportation policy as too harsh and promised to deport only criminals.
"I will not deport children. I would not deport children. I do not want to deport family members either," Clinton said, adding that she would use her authority to "stop the raids, stop the round-ups, stop the deporting of people who are living here doing their lives, doing their jobs, and that's my priority."
Rival Sanders also said Obama was "wrong on this issue of deportation" and vowed not to deport children. The audience at the Univision-sponsored debate applauded. Sanders attacked Clinton for saying in 2014 that new unaccompanied minors from Central America should be sent home; Clinton hit Sanders for voting to block immigration reform in 2007. Each downplayed their past heresies.
Both Clinton and Sanders have unveiled proposals emphasizing a path to citizenship for the 11 million undocumented immigrants estimated to be in the country, and pushed to use executive actions to protect people who aren't criminals.
"The issue is divisive for both parties, but the Democratic base has become more Latino and hence more pro-immigrant while the Republicans have inherited more of the white nativist vote," Cain said.
Dramatic Shifts
The Republican shift is dramatic. President George W. Bush championed a path to citizenship during his second term, while conservative icon President Ronald Reagan signed a bill in 1986 granting amnesty and eventual citizenship to people in the country illegally. In 2013, 14 Republicans voted for a bill to provide a pathway to citizenship and expand legal immigration limits (including Rubio, who ended up paying a steep price with Republicans, and went on to abandon it), which passed the Democratic-led Senate 68 to 32. The bill went nowhere in the House, but a Senate vote like that would be unimaginable today.
After Obama cruised to re-election in 2012, thanks in part to winning more than 70 percent of the vote among Hispanics and Asian-Americans, the Republican National Committee released a postmortem urging its candidates to be more welcoming of immigrants in order for the party to remain viable in national elections. It was an implicit rebuke to GOP nominee Mitt Romney, who called for creating conditions that would lead to "self-deportation" of undocumented immigrants.
But Republican voters have decided to move in the opposite direction.
"There are two different theories in this election. One is that there are enough angry white people who haven't been sufficiently tapped and that if we are only conservative enough we can drive them to the polls," John Feehery, a Republican strategist and lobbyist, said in an e-mail. "The other theory studies the basic demographics of the country and constructs a strategy based on those demographics. I have been a proponent of the second theory. We have decided as a party to pursue the first. As a result, it is unlikely that we will win this Presidential election."
Meanwhile, Democratic resistance to more open immigration policies has all but vanished. Every Senate Democrat as well as Sanders voted for the 2013 bill, a contrast from 2007, when 15 members of the party, along with Sanders, an independent, joined Republicans in a vote to block Bush's immigration effort.
"This election does seem to have the biggest difference on immigration between the two parties that we've seen in a long time, at least as long as I can remember. That's regardless of who gets nominated," said Mark Krikorian, an activist with the Center for Immigration Studies, which seeks to cut immigration. "You're turning the knobs and it's becoming clear what the options are. And that's useful, I think, for policy-making."
"This issue used to be bipartisan, in a bad way. There were high-immigration Republicans and Democrats, and there were some high-immigration and low-immigration Democrats," Krikorian said. "There wasn't really all that sharp a distinction, and the issue has become increasingly partisan. I don't use that as a derogatory term."
The extent to which the next president reshapes the immigration system depends on the makeup of Congress in 2017. A wave election that gives one party total control could pave the way for dramatic changes. A divided legislature may produce more gridlock, leaving in place a status quo that both sides overwhelmingly believe is broken. 
Sharp Executive Contrasts
Clinton and Sanders are drifting left of Obama, who has a complicated record on immigration. As of January 2016, the president had deported 2.5 million undocumented people, more than any other president in U.S. history, according to Fusion. He enacted legislation in 2010 to beef up border security by $600 million. In June 2012, he rolled out an executive program to give deportation relief and two-year work permits to certain young people who had been living in the U.S. for years. In November 2014—after the House rejected his attempts to let people in the country illegally earn citizenship, and after one Hispanic leader labeled him the "deporter-in-chief," Obama used his executive authority to expand his deportation relief to some 5 million people by covering parents of U.S. citizens as long as they hadn't committed crimes. That order is on hold as the Supreme Court prepares to hear a Republican-led lawsuit to overturn it.
Obama's executive are themselves a hotly debated topic in the 2016 election. Both Clinton and Sanders have promised to protect and expand Obama's deportation relief to cover the parents of so-called DREAMers—the young people protected by Obama's 2012 order—even though the Obama White House concluded in 2014 that such a move would exceed the limits of its legal authority. By contrast, every Republican candidate vows to undo both the executive programs, viewing them as unconstitutional. The next president could determine, with the stroke of a pen, whether millions of people can stay in the U.S. or be forcibly removed.
"The one silver lining of Obama abusing executive power is that everything done with executive power can be undone with executive power, and I intend to do that," Cruz said in the March 10 debate. "When I led the fight against amnesty," he added, "it's because I was standing with the people."
To contact the author of this story: Sahil Kapur in Washington at [email protected]
To contact the editors responsible for this story: David Knowles at [email protected], Andy Sharp at [email protected]
©2016 Bloomberg L.P.