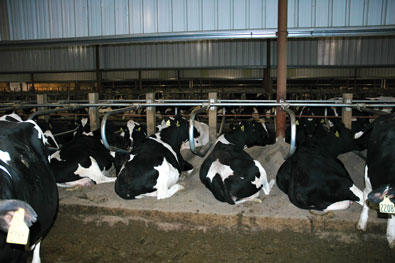 Cows are clean, dry and comfortable under the baffles of Helmer Dairy's 3,000-cow cross-vent barn.
When Randy Pater was looking for ideas to build a new dairy barn back in 2005, he took a three-hour drive up to Milnor, N.D., to check out the first cross-ventilated barn ever built for dairy cows.

The Pipestone, Minn., dairy producer liked what he saw and didn't think he needed to look at any other barns. "I was impressed enough to decide that the cross-ventilated barn is what I wanted to build," he says.

He started construction on his own eight-row, 210'x390' cross-vent in March 2007. Five months later, he was ready to move his first groups of cows into the 600-stall barn.

As with his road trip, Pater hasn't looked back since. At the time of Dairy Today's visit in September, Pater was averaging 83 lb./cow/day on 600 cows. The cows are milked 3X, with 60% on BST, and average 180 days in milk.

"The cross-ventilated barn allowed us to hold production through the summer. We hardly had any milk loss," Pater says. Breeding held up as well, with pregnancy rates over the past 12 months averaging 20% and dipping to just 18% during the summer months.

"We can hit as high as 24% on pregnancy rates in the new barn," he says. "In the old barn, a not-well-ventilated freestall barn, we really struggled sometimes through July and August with breeding."

In the old barn, cows would bunch up on hotter days and make heat stress even worse. "In the new barn, there is absolutely no bunching," Pater says. And with air speeds that range from 3½ mph in the feed alleys to 6½ mph under the baffles positioned over freestalls, flies aren't a nuisance. "We don't spend anything on fly control," he says.

Pater's barn is configured into eight pens, each sized to hold 80 cows. The first pen is designated as the fresh-cow pen, five pens are for breeding groups and two pens are for late-lactation, far-off groups.

Dry cows are housed and calved at the old facility, with the old double-six parlor serving as the hospital parlor for the dairy. Fresh cows are housed there until milk is salable, and sick cows are taken there for treatment.

The new milking parlor, a double-12 parallel, can milk the 80-cow pens in 45 to 50 minutes. The small groups mean cows are away from feed and beds less than an hour three times a day. They also mean cows are easier to manage. "We don't need sort gates because it's easy to pick out one cow from 80," Pater says.

Cooling pads on the west side of the building serve as the barn's air inlets and air conditioning. In winter, Pater lowers curtains over the outside of the pads to prevent air moving through the pads and directly down on cows. There's a 4" fresh-air inlet above the cooling pads for winter. Thirty-six 52" fans on the east side of the building are available to pull air through the barn.

Four sets of metal baffles run the length of the building and drop from the ceiling over rows of head-to-head freestalls. The baffles' purpose is to keep the cooled air down over cows. Without them, air would simply move floor to ceiling throughout the interior, reducing the cooling effect.

The number of fans running at any one time depends on outside air temperature. This past summer, when outside temperatures hit 90¢ªF-plus and with all 36 fans pulling air, the temperature in the barn warmed to just 78¢ªF. "The pads provide really cheap cooling because we use recirculated water," Pater says.

After the first year of operation, the pads had no scale buildup on them. But Pater is noticing some scale beginning to build this year, which could reduce pad water absorbency and cooling efficiency. He is considering using a water treatment to reduce the scaling.

Pater has 24 of the fans set to turn on at various temperature levels. But he manually controls the remaining 12 when outside temperatures drop.

The absolute minimum number of fans he will run is four overnight in winter, and he keeps eight fans humming during winter days when the skid steers and feed wagons are running in the barn.

Temperatures last winter dipped to –20¢ªF. "On the most brutally cold nights, the lowest we got in the barn was 28¢ªF," he says. "We did get some manure freezing in the lanes, but the skid steers with rubber scrapers were able to remove it."

Pater uses sand for bedding. A skid steer scrapes manure to a central underfloor flume for flushing into a sand-settling lane 400' from the barn. "Even on those cold days and nights, the sand lane kept working. It did ice over, but it kept flowing below the ice," he says.

The sand lane allows the heavier sand particles to settle out over the 400' course. Pater says he's able to recover and reuse about 90% of the sand.

All told, Pater is pleased with the performance of the building. "We did have a few cases of pneumonia when we first moved into the barn last fall. But we're vaccinating for salmonella every six months, and we think we've eliminated that problem," he says.

The barn is already configured for easy expansion. All the pens feed into a central alley that is a straight shot into the parlor holding area. Pater could double his capacity by simply adding a second barn to the east and linking up the central alleys. (The parlor could be expanded by pushing to the west.) The layout of the two barns would be flipped. That would mean the exhaust fans from each barn would face each other so that stale air from the original barn wouldn't be pulled through the new barn.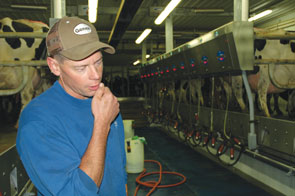 Small 80-cow groups cycle though Randy Pater's double-12 parallel in 45 to 50 minutes.

If Randy Pater gambled with a 600-cow cross-vent barn, Lynn Boadwine and Scott Helmer doubled down on their 3,000-cow cross-vent facility in Garretson, S.D.

The barn is less than 20 miles as the crow flies from South Dakota's largest city, Sioux Falls, and is under the same Minnehaha County governance. But Boadwine's good stewardship in a 2,000-cow cross-vent facility in Baltic, S.D., just 20 miles to the west, allowed him and Helmer to partner up and site the Garretson facility with little opposition from the community.

The new 3,000-cow barn went up this past summer, with the first cows moving into the facility in August.

The 10-row barn is 256' wide and 700' long. Cows are housed in 320-head groups and are milked in a double-40 parallel, which is expandable to double-45. The facility also has a two-unit hospital parlor and treatment area.

The facility is actually two barns, with exhaust fans facing each other in a central outdoor corridor. The 55" fans are powered by 2-hp, three-phase motors. Cooling pads line the north wall of the north barn and the south wall of the south barn.

Walls, ceiling and even steel support posts are covered with ¾" to 1" of sprayed-on, closed-cell foam. The insulation, which provides R-6.5/inch, isn't cheap at 60¢/sq. ft.

But the insulation will help prevent condensation—and therefore corrosion—of the steel beams, posts, roof and walls. "We want this to be a 40-year barn," Boadwine says. "So we even coated the steel posts."

A 24' cow lane runs the width of both buildings on the west side, and cows have to make either a 90¢ª left or right turn into the holding pen. But the wide alley allows skid steers and other equipment to move from pen to pen without opening doors. That has two benefits, Boadwine says:

First, any time a door opens, it short-circuits air movement in the barn. While those times might be relatively short, they can reduce cooling in summer and allow bitterly cold air to enter in winter.

Second, the fewer times doors are opened, the less chance they will be nicked or damaged by equipment as it enters or leaves the building. "Door blight," as it's known to cross-vent veterans, is one of the biggest maintenance headaches with the new barns.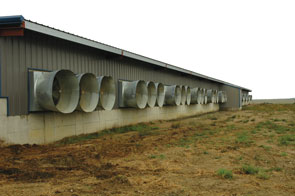 The exhaust end of Randy Pater's 600-cow cross-vent barn, with the bump-out at the center for future expansion.

Like Pater, Boadwine and Helmer use sand bedding. Manure-laden sand is scraped to a flume in the center of each barn, where it's cross-augered to an insulated sand-separation building. This building helps ensure that all the mechanicals function year-round. "Plus, sand lanes would have cost $300,000 in earthwork alone on this site," Boadwine says.

And the insulated building allows Helmer to reuse sand quickly—even in the bitter South Dakota winter, which quickly turns sand into concrete. The facility has 52 million gallons of wastewater storage, divided into a four-stage lagoon system.

All of this comes with a price tag, of course. Boadwine estimates that the sand separation system equaled to a $265/cow investment.

"Redundancy is built into the system so that we have backup options if something fails," he says. "There's nothing worse than having a manure system failure with 3,000 cows."

Boadwine and Helmer just finished filling the barn this fall. But they're excited about its potential.

"We've been in our other facility for a year," Boadwine says. "We had to overcrowd it by more than 20% over the summer as we were waiting for this barn to be finished. Even through the summer, we had no production or somatic cell effects."
Bonus content:
Click here for the Spanish version.

Click here to read an article from the High Plains/Midwest Ag Journal titled Commission approves dairy farm near Sherman, S.D.

Click here to read about another cross-vent barn.