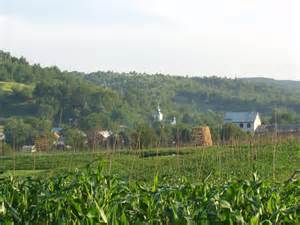 (Bloomberg) -- Ukraine's recession is threatening to cause the worst decline in the corn harvest since 2005 as soaring interest rates make borrowing too costly.
Production in Ukraine, which ships more corn than any country after the U.S. and Brazil, may fall as much as 19 percent to 23 million metric tons, according to Daryna Kovalska, an analyst at Macquarie Group Ltd. in London. She said farmers won't be able to buy as many fertilizers and pesticides, which are often imported, and may turn to cheaper, lower-yielding seeds to save money.
It's becoming more expensive to grow crops after the government raised interest rates to 30 percent, the highest in the world, on Tuesday to stem a plunge in the hryvnia. While the government has provided some money for loan subsidies, it's not enough to make a difference, said Sergey Feofilov, the general director of researcher UkrAgroConsult.
"Given that the financial system isn't doing great, farmers are struggling to get enough credit to finance their spring campaign," Kovalska of Macquarie said by phone Wednesday. "Banks are still very resistant to giving loans to farmers."
Corn Trading
Corn prices on the Chicago Board of Trade, the global benchmark, dropped 19 percent in the past year after record harvests worldwide. Prices slipped 0.1 percent to $3.89 a bushel as of 6:15 a.m. in Chicago. In Ukraine, farmers sow corn in April and May for a harvest that will start in September.
The nation almost tripled its corn production over the past five years, helping it become a major exporter. Shipments from the most-recent harvest are expected to reach 18 million tons, up from 5.1 million in 2009, according to the U.S. Department of Agriculture.
Farmers usually require credit to cover about half of their yearly expenses, according to Feofilov at UkrAgroConsult in Kiev, Ukraine. The country's central bank has raised interest rates in an effort to tighten policy and access an International Monetary Fund bailout.
Wheat will be less affected because it was mostly planted last autumn before the conflict with Russian separatists and the economic crisis escalated, according to Kovalska, who predicted an 11 percent drop in production to 22 million tons. Total grain output, including corn, wheat and barley, may drop about 10 percent to 55 million tons in 2015, UkrAgroConsult data show.
"High interest rates could affect negatively and aggravate the situation of the Ukrainian economy and also in agriculture," Feofilov said. "It will be an additional burden."
To contact the reporter on this story: Whitney McFerron in London at wmcferron1@bloomberg.net To contact the editors responsible for this story: Lynn Thomasson at lthomasson@bloomberg.net John Deane