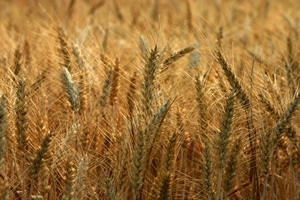 Ukraine reached an agreement with exporters that would limit shipments of wheat used in flour out of the country in an effort to preserve food supplies.
Agriculture Minister Oleksiy Pavlenko said at a conference on Friday that milling wheat exports of 1.2 million metric tons from January through June are being discussed, adding that the figure may vary by 10 percent. The pact with grain exporters will be signed Jan. 26, Pavlenko said from Kiev.
"The memorandum is a gentlemen's agreement that in fact means an informal restriction," Nikolay Vernitsky, director of market researcher Pro Agro, said by phone from Kiev. "There is a risk of a shortage of wheat at the end of the season."
Fighting between the Ukrainian government and separatist rebels has worsened since the latest round of peace talks collapsed last week. The conflict has pushed the economy into its deepest recession since 2009, left the hryvnia 48 percent weaker against the dollar last year and prompted the government to seek financial help on top of a $17 billion loan from the International Monetary Fund.
Ukraine wants to control the pace of wheat sent abroad in order to maintain sufficient stockpiles, said Antoine Gautier, a market analyst at Offre & Demande Agricole in Bourges, France.
Ample Supplies
Wheat has tumbled 19 percent on the Chicago Board of Trade from a peak in December, nearing the threshold for a bear market, on ample grain supplies from the U.S. to Europe. Global production will be a record 717 million tons this season, helping send grain stockpiles to the highest since the mid-1980s, according to London-based International Grains Council.
Ukraine has shipped about 8.5 million tons of wheat used for food and livestock feed already this season, which started July 1, according to the government. Total exports during the marketing year will be 11.5 million tons, the IGC said on Jan. 23, raising its earlier estimate.
Grain exports were a record for the first half of the season, according to researcher UkrAgroConsult, as the plunging currency made it cheap for foreigners to buy.
"The government wants to be able to control the exports, so that when things go too fast, the government can say, stop," Gautier said. "We have enough wheat in Europe and the U.S. is decent, so there are no real worries."