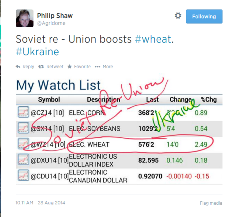 Prices for wheat futures rise on latest news of Russian troops in Ukraine.
The latest fighting in the conflict between Russia and Ukraine could put a Black Sea port at risk. According to news reports, Ukrainian forces are taking positions around Mariupol, a city that is also home of one of the country's ports. Established in the 1600s, Mariupol has served as a port for centuries, exporting wheat and coal for centuries. Approximately 500,000 people live there.
Prior to the unrest, Mariupol handled 3 percent of the 5 million metric tons of grain exported each month by Ukraine. The country is expected to produce 22 million metric tons of wheat this year for export and domestic use, according to the USDA-NASS, which has forecast big wheat crops for Russia and Ukraine this year.
But with Russian forces entering southern Ukraine, the port's ability to ship that grain may be in question. Earlier this year, Russia took control of another Ukrainian port--Sevastopol, which is located on the Crimean Peninsula. Sevastopol was responsible for exporting 5 percent of Ukraine's grain.
Not surprisingly, wheat price have been on the move.As of early afternoon, the price for September wheat had jumped 12.4 cents to $5.596. December wheat also moved up, increasing 13.2 cents to $5.754.
Are traders overreacting?
"The reaction [from the markets] has been very emotional," noted Steve Mercer, vice president of communications for U.S. Wheat Associates in Arlington, Va., who says Ukraine moves the majority of its grain from Odessa and Nikolayev, both on the country's western side. "But the volume in and out [of Ukraine] has not changed very much. It appears to be operating at a normal pace."