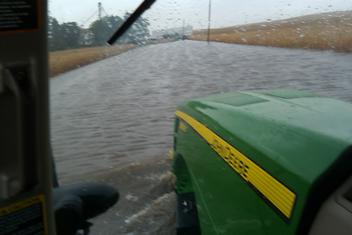 With an already tight carryover projected for next year, corn's supply noose seems to tighten by the day as the market looks for news to ensure corn supply for the coming year. Soybeans are following suit as demand is increasing for that crop and it appears the market must begin to bid up acres. This is creating an "unbelievably bullish market."
Corn carryover, projected to be the lowest since the 1995-96 marketing year before USDA's September USDA's Crop Production Report, looks to be the noose around the necks of grain buyers. Daily reports of lower-than-expected yields and mounting bullish demand news are combining to paint a fundamental and technical picture that will shoot corn and soybean prices considerably higher, says Jerry Gulke, Top Producer marketing analyst and president of The Gulke Group.
(To receive Gulke's analysis, e-mail [email protected], or visit The Gulke Group's website.)  
Getting Smaller By The Day. "Each day we're seeing yields come in and the market was expecting to see yields come up as we moved north." The expected yield jump isn't happening.
Gulke's contacts within the trading community are starting to believe that corn yields could fall sharply from the original USDA estimate of 165 bu./acre in August, and even below the 162.5 bu./acre released by USDA in September.
"It's coming from people with a lot of clients. They're large brokerage businesses with a large number of clients and farmers are starting to call in from various parts. You've got a couple of respected people in the business now saying it's below 158 bu., down to the 154 bu. area. It's not phony anymore, there's some reality to it."
Gulke uses one of his fields at his Rockford, Ill., farm as an example. He saw yields vary as much as 40-50 bu./acre in tests he ran this week. The lower end of the range was coming from the lower elevation areas of his fields. Those areas normally produce some of his best crops, which is an indication to him that excessive moisture limited yields more than originally expected.
"It's almost like a (summer) weather market. It looks like the market is saying, boy over two days there's a lot that can happen in the world and who knows what's going to happen next," says Gulke. "Two nights ago we went to bed 30 cents lower, and the next day we woke up to find out there was 10-inches of rain in southern Minnesota. Now some people are saying it'll have to freeze before we get back in again. That's maybe a little extreme, but every time it seems like we need something to happen to keep this bull market going, it happens."
Market Strategy. The market is currently running prices higher in winter and spring months in order to curb demand and it's closing some of the carry advantages usually reserved for the May and July corn contracts. Heading into the new week, Gulke says farmers need to lock in profits by putting a floor on the market and ride the rising tide of higher prices.
"I looked at it and said, 'where do I want to buy my grain back?" I'm of the mind that we may start selling some of our crop out into March for cash delivery, or sell it for April or May. Then selling a put, which means I will own corn, the opposite of buying a put. So if corn is trading at $5.00/bu. and we sell a $4.60 put for $30 cents, that means you're going to own corn at $4.30 bu. or less.
"If it's already sold, and if we understand what we know about a bull market and the bull market for demand going forward, the last thing that should happen is for corn to be trading cheaply, relatively speaking, in February when those options expire. I find it highly unlikely that that will happen, but I'm not going to all hold my crop in the bin and run the risk of missing a great pricing opportunity."  The market should also give us a technical sell signal , similar to the one back on June 30th that said things have changed.