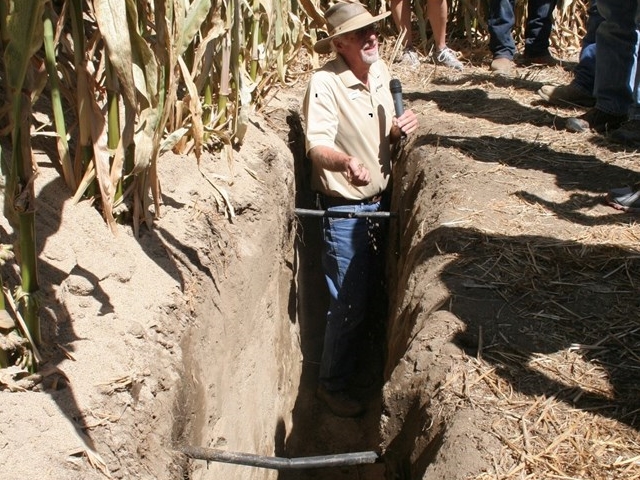 In California, where a four-year drought and expanding almond orchards are shrinking corn silage acreage, dairies are looking for ways to save water, increase feed-crop yields and lower input costs.
DeJager Farms near Chowchilla, Calif., may have found a unique solution for all three.
In a project with Netafim USA and Sustainable Conservation that began in 2014, DeJager Farms used subsurface drip irrigation (SDI) to uniformly water two corn silage fields. That's a sharp departure from the above-ground flooding that's conventionally used to irrigate Central Valley corn fields.
The project included an additional and unusual step. It irrigated one of the test fields with a mix of liquid manure and fresh water, transported through underground drip lines.
The experiment covered only two 40-acre blocks—a "treatment" and a "control" field—among the farm's 8,000 acres of silage corn. But the results show there is promise in wider applications.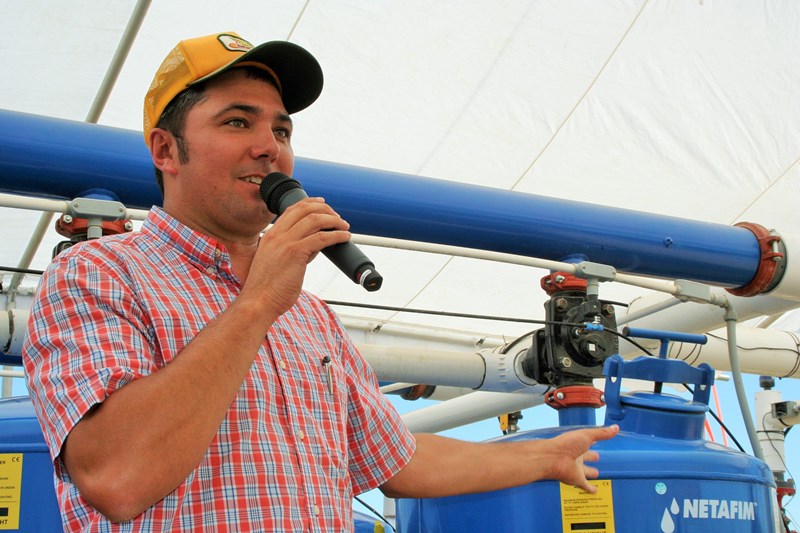 "This is a win-win-win project for all three partners," says Nate Ray, DeJager Farms manager.
Netafim USA, based in nearby Fresno, provides drip irrigation solutions to agriculture and other industries. San Francisco-based Sustainable Conservation is a nonprofit that works with businesses to implement sustainable environmental solutions.
DeJager Farms isn't a stranger to SDI. For the past six years, it's been watering its alfalfa fields with the underground drip system. It now irrigates 800 acres of the forage crop with SDI.
"We saw water savings and yield increases in our alfalfa, and decided to try it on our corn, especially as we started seeing water cutbacks from the drought," Ray says.
The two 40-acre fields in the silage corn experiment sit about half a mile from DeJager's dairy. The freestall operation milks 3,000 cows. Each test field is managed under a strip-till corn/no-till winter wheat rotation.
The treatment field sourced its effluent from the dairy's primary lagoon. The manure water was routed 2,000' underground to a central control station beside the two test fields.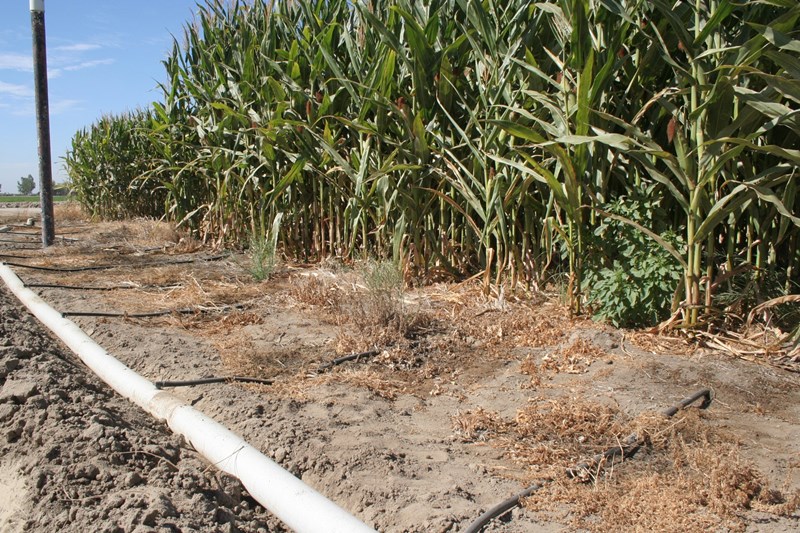 There, the effluent was mixed with fresh water from a nearby well at a ratio of 250 gal. fresh to 50 gal.  lagoon water. That mix ran through a series of above-ground filtering tanks, then traveled underground about 30' to ground-level piping beside the field. Attached to the pipe are black tape lines, spaced 60" apart to irrigate every two rows of corn. These polypropylene drip lines are buried 12" deep to irrigate plant root zones. Each underground drip line runs 1,300' long, which is typical for Central Valley corn fields.
The SDI drip lines should last five to six years. "That's what we need for them to be feasible," Ray says.
Because the central station is fully automated, Ray can manage the entire SDI system, including scheduling, through his smartphone or computer.
For the adjacent control field, fresh water from a separate well and filter station was mixed with synthetic fertilizers and transported underground to irrigate that block's root zone.
The SDI system faced some challenges with lagoon water. In a perfect world, DeJager Farms would have located its SDI control station beside the lagoon instead of nearly half a mile away near the corn fields.
"That would be ideal, but we had already installed the drip system," Ray says. "It was an infrastructure and economic decision to build the filtering unit near the fields."
Another challenge was preventing the emitters from plugging when effluent-mixed water ran through the drip lines. "Six percent of the water going through the drip lines is used just to flush the system," says Dennis Hannaford, part of Netafim's product application support team. "It's an expensive solution, but we're working to make it more simple and affordable."
Moreover, because California's drought limited the amount of fresh water the dairy could use to dilute its lagoon, there was less liquid manure to use in the SDI treatment field this year. That forced Ray and his team to apply more synthetic fertilizers than the small amount they added in 2014.
Still, those involved in the project are excited about the possibilities. In 2015, the dairy saved $160 per acre by using lagoon water instead of synthetic fertilizer.
Yields in the two test fields were good, averaging 34.8 tons per acre in 2014, and 35.45 in 2015, adjusted to 70% moisture. The manure-irrigated field yielded slightly higher than the control field in 2015. The test yields compare to the ranch's average of about 29 tons for flooded fields, although conventionally irrigated corn near the test plots tends to perform better, in the 32- to 33-ton range. Testing for silage quality is underway.
Most important are the water savings. The two test fields are part of 170 acres of corn silage that DeJager Farms irrigates under SDI. Already, the underground drip system has saved the farm more than 325,000 gal. of water per acre—a 30% decrease, compared to traditional field-flooding. The water savings is significant because it allows DeJager Farms to shift its limited water supplies to farm additional acreage.
Originally a two-year project, the endeavor will extend into 2016 as participants seek ways to improve the system's performance. Eventually, Ray hopes to irrigate the farm's entire silage corn acreage with liquid manure through the SDI system. Irrigating the farm's alfalfa fields with lagoon water is another goal.