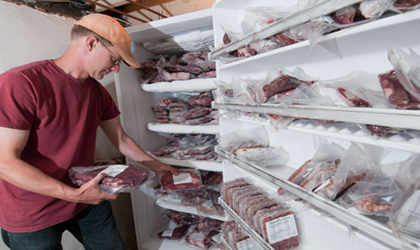 Do you know about animal welfare labeling on food?
By: Heidi Carroll, SDSU Extension Livestock Stewardship Associate

Food labels that emphasize how animals are treated and cared for on the farm or ranch are becoming more widely recognized in grocery stores across the United States. This can be seen by the results of the 2014 Humane HeartlandTM Farm Animal Welfare Survey completed by the American Humane Association. The majority of respondents (69%) ranked the Humanely Raised label above Antibiotic Free, Natural, and Organic labels in terms of importance. Additionally, 35% of respondents already buy humanely raised products and another 35% said that the lack of product availability was the biggest factor keeping them from buying humanely raised products. Only 19% of respondents said humanely raised products were too expensive, 9% didn't know the difference, and only 1% were not concerned with labeling.
When asked what a "humanely raised" label means to you, 55% of respondents chose the "only better treatment of animals" option and almost 30% chose "all of above: better treatment of animals, safer food, and more nutritious and healthy food". This shows that almost a third of respondents connect many food concerns along with a "humanely raised" label, not just proper animal care.
As a shopper, it is important to understand what a label actually means and the on-farm guidelines in place for the specific program of the label. Claims about on-farm care practices do not necessarily tell the shopper anything about the safety or nutrient content of the product. To help shed some light on welfare labels, here are some examples and considerations.
Who manages the program?
Welfare label programs are typically managed by non-governmental organizations. For example there are several labels that are considered humanely raised or welfare labels: Certified Humane (managed by Humane Farm Animal Care - HFAC), American Humane CertifiedTM (managed by the American Humane Association), Animal Welfare Approved (managed by the Animal Welfare Approved group, created by the Animal Welfare Institute), and American Grassfed Certified (managed by the American Grassfed Association).
The United States Department of Agriculture (USDA) oversees the National Certified Organic and is considered among these label programs since it has written standards that are verified.
What do the labels mean?
Each label has specific standards of care for each animal that the program certifies food products for. It is important for shoppers that currently purchase or desire to purchase these products to read through the care standards for each animal to understand what practices are allowable. These documents are easily accessible on each organization's website. Along with humane care practices, the standards may specify guidelines for antibiotic and hormone use, pasture or pen requirements, and feeding animal by-products.
The label does not state whether the program uses an audit to verify on-farm practices, so this information must be found by reviewing the certification process for each program. My review of these programs showed that the majority of certified welfare labels are audited by a third-party at least once annually.
Meat labels can be difficult to understand in large supermarkets or local farmer's market. If you desire to purchase foods raised under certain care practices, make sure to review the label's wording with their standards document or visit with the producer about the care they provided to the animals.
Sources: