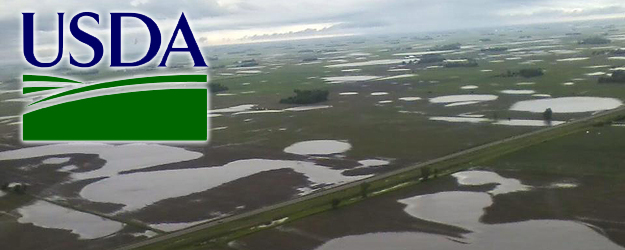 When it comes to acreage, analysts have already leap-frogged over next week's Acreage report and turned their attention to the July 11 World Agricultural Supply and Demand Estimates (WASDE).
From Nebraska and South Dakota through northwestern Iowa and southwestern Minnesota, corn and soybean fields are dotted with newly formed ponds that likely will not have enough time to dry out to be planted or replanted.
"There's a good reason the area is called the prairie pothole region," says Chad Hart, agricultural economist with Iowa State University.
Hart thinks most of the drowned out acres will be counted as planted in the June 30 Acreage report, but says that USDA will likely account for the losses by adjusting its forecast for harvested acres in its July WASDE report.
Bigger Acreage Numbers
Compared with the March Prospective Plantings report, Hart expects USDA to raise both corn and soybean acreage by about 1 million acres each, from 91.7 million acres to 92.7 million for corn and from 81.5 million acres to 82.5 million acres for beans. The average trade estimates call for 91.725 million acres of corn and 81.15 million acres of soybeans.
Hart notes, however, that while slightly less than 1 million combined acres of corn and soybeans will be lost to ponding, the decline won't show up in the Acreage report.
Dan O'Brien, agricultural economist with Kansas State University, however, says some of the corn acres lost to ponding could have already shifted to soybeans, which could be counted in the upcoming Acreage report.
"On past reports, USDA has been cognizant of these types of problems and in recent years has even done secondary surveys," says O'Brien.
Other wildcards, according to O'Brien, are the wide discrepancy between corn and soybean prices and the pessimistic price outlook for new-crop corn.
Considerable Uncertainty
"I think corn acreage will hold up," he adds. "But there is a considerable amount of uncertainly." To what degree have wet conditions forced some corn acres to go to soybeans? And how many acres will not get planted or replanted?

"We'll see the big numbers next week, but those numbers will be decreasing as USDA adjusts harvested acres downward," says Hart.
North Dakota will be the state to watch in terms of soybean acreage. North Dakota producers planned to plant an additional 1 million acres of beans this year. Given the wet, cool weather, there's some question as to whether they were able to plant all those acres in time, Hart adds.
"Over the past five to six years, we've had more issues with being too wet than too dry," notes Hart. "In 2011 the eastern Corn Belt was really wet. Indiana and Ohio were way behind. If it continues to rain, the current situation will become a much bigger problem, but if it stops raining, the crop has lots of moisture to work with, and we could see incredible yields."