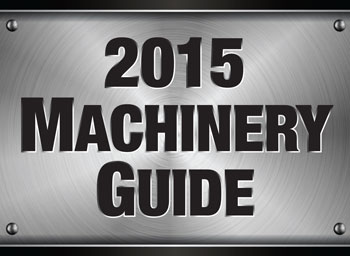 Social media showcases all sorts of machinery stories
I've enjoyed tracking auction prices on used machinery for 25 years. Never have I had more fun than now, though, thanks to social media. Every day on the Machinery Pete Facebook page, YouTube channel and Twitter feed I'm posting interesting pictures, prices and whatever catches my fancy in the farm equipment world. Interacting with our audience is energizing, and I hope it is fun and informative for you. Here are a few of my favorite posts from 2014: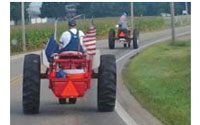 Brothers Travel 1,405 Miles in Tractor Seats
In August, we followed the adventure of brothers Wayne and Lloyd Smith from Virginia, who drove 1,405 miles round trip on their tractors to attend the 49th annual Tri-State Tractor Show in Portland, Ind. Wayne, age 74, drove his 1955 Farmall Super M, while younger brother Lloyd, age 70, drove his trusty 1953 Ford 900. Wayne's son Randy trailed in an RV to keep them safe. Their epic tractor journey to the show and back home to Virginia took eight days. They left a trail of smiles all along the way.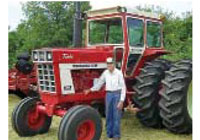 Hot Ticket International 1566 With Only 450 Hours
I hope I live to be 90, and if I do, I hope I'm half as sharp as Carman Start of Leroy, Minn. I covered Start's auction on Aug. 14, and it was featured in the premiere for Season 2 of "Machinery Pete TV." Start quit farming in the late 1970s and parked his 1975 International 1566 with a mere 450 hours in the shed. I knew this one-owner tractor would be a popular item at auction, but I underestimated just how hot. It sold for a new record (by a long shot) of $45,000.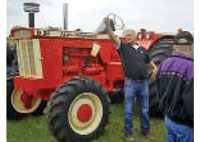 The Single Most Amazing Auction
Folks often ask, "Pete, what's the most amazing auction you've covered?" After a two-day auction in late June in Bedford, Iowa, I have a new answer. Collector Keane Thummel has an amazing assortment of restored John Deere and Allis Chalmers. I saw tractors my eyes had trouble believing: a pair of John Deere 4000 tractors sold for $56,000 and $71,000 (a record), a John Deere 6030 for $64,000 and a John Deere 4020 for $45,000. A 1970 Allis Chalmers 220 factory front-wheel assist with 2,600 hours, one of 96 made, sold for $68,000. This front-wheel assist restored D21 (pictured) sold for $48,500.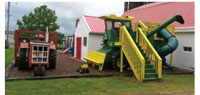 The Thrill of a Combine
At an auctioneer convention in Michigan this past summer, I was visiting with my friend Scott Vander Kolk when he mentioned a picture he wanted to show me on his phone. Boy, was I surprised when he showed me an old John Deere 4400 combine that had been converted into a kids play fort. The combine/play fort is the brainchild of Jeff Lenhart of Dorr, Mich. Every year around Halloween, he hosts a corn maze and haunted woods on his farm. It kind of makes you wish you were a kid again, doesn't it? 
A "Cool" Project
In January, I got a note from Steven B. who was restoring a 1955 International Harvester refrigerator and needed help finding two pieces. I posted a picture of the fridge, and folks offered help and shared their own stories of their families' prized International Harvester appliances.