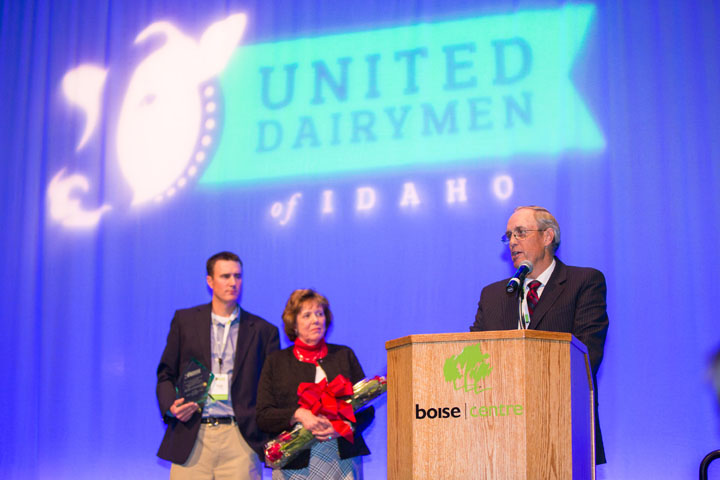 Three dairy farmers are honored for achieving excellence in their industry.
Source: United Dairymen of Idaho
BOISE, Idaho (Nov. 13, 2014) – At its annual meeting this week in Boise, the United Dairymen of Idaho announced three awards given to honor dairy farmers who have achieved excellence in their industry.
Milk Quality Award Winner -- James Bazil of the J-O Bazil Dairy in Rigby, Idaho, has been awarded the 2014 Idaho Milk Quality Award. This award is based quality indicators submitted by Idaho companies (milk processors, co-ops and associations). Bazil earned this award based on the results of 12 monthly milk quality tests, including standard plate count and somatic cell count. The monthly quality scores that determine this award were taken from July 1, 2013-June 20, 2014.
Friend of the Industry Award Winner -- Rick Norell has managed the Idaho Milk Quality Award since its inception in 1989, soliciting producer nominations from Idaho milk handlers and selecting the winner based on defined criteria from the UDI board.  Norell received a Ph.D. in animal science and was hired as a state extension dairy specialist by the University of Idaho in August 1982 with an office in Idaho Falls working primarily with eastern Idaho dairy producers but also in statewide dairy extension educational activities. 

Rick Norell accepts his Friend of the Industry Award.
Over the years Rick has given numerous producer presentations on a broad range of topics, such as: cow comfort, dairy herd nutrition, calf care, nutrient management, risk management, dairy farm programs, and waste management. Over the same time period, he worked with many individual dairy families to solve dairy management issues, to formulate dairy rations, and/or to remodel their dairy facilities. He has conducted on-farm trials, compared calf housing styles, evaluated various winter calf feeding programs, compared cow behavior in old-versus-new free-stalls, and evaluated benefits of sand savers in sand bedded free-stalls.
Hall of Fame Inductee -- Alan Andersen of Seagull Bay Dairy and Andersen Dairy in Burley, Idaho, has been inducted into the Idaho Dairy Hall of Fame. Andersen has been a dairy owner for 39 years, having started his own dairy with 30 cows in 1976 in Tyhee, Idaho. The family currently has more than 2,000 cows on two sites, Seagull Bay Dairy in American Falls, Idaho, and Andersen Dairy in Declo, Idaho. Currently 15 Seagull Bay bred bulls are being marketed by four AI studs in the U.S. and Canada, including Seagull Bay Supersire, the number-one Net Merit Holstein bull. Seagull Bay Holsteins has the highest breeding index (CTPI) average of any dairy in the western United States. Andersen is an Idaho State Holstein Board Member, and has earned the Holstein Association's Progressive Breeder Registry Award for the past 6 years, as well as the Holstein Association's Progressive Genetics Herd Award for 11 years in a row.
The United Dairymen of Idaho protects and promotes the Idaho dairy industry and dairy farm families through outreach, nutrition counseling and partnerships with consumers, dairy processors, retail outlets and farmers and their families. UDI is the parent organization of both the Idaho Dairy Council and the Idaho Dairymen's Association. Visit IdahoDairy.com for updates and additional information.