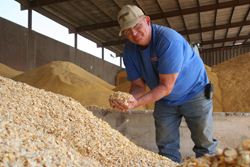 At $252/ton, Darrell Vanden Berge is paying almost $100/ton more for rolled corn than he did a year ago at his Bakersfield, Calif., dairy.
Sweet-smelling rolled corn falls through Darrell Vanden Berge's fingers as he scoops a handful of the golden flakes from his dairy's commodity barn near Bakersfield, Calif.
For two years, soaring prices for the Midwest-grown corn and every other commodity he feeds his 2,800 milk cows have been taking ever-bigger bites out of Vanden Berge's profits.
If commodity and market analysts are right, that painful trend may continue for at least another year, not just for Vanden Berge but for livestock producers across the U.S.
Record-high oil prices, skyrocketing demand for ethanol and corn, booming world markets, tight stocks-to-use ratios for grain crops, and the weaker U.S. dollar all are contributing to record feed prices. Add the influx of speculators in the commodity markets, and few expect feed prices to return to levels seen even two or three years ago.
"Volatility will persist in feed costs, but, on average, we're not going back to $2/bushel corn," says Scott Brown, dairy economist with the Food and Agricultural Policy Research Institute (FAPRI) in Missouri.
Overall, feed prices are 50% higher than they were a year ago, Brown says, and 120% above 2003 levels.
As a market analyst for Western Milling Quality Feeds, a major feed supplier to California's dairy industry, Joel Karlin has a front-row seat to the unfolding feed-price drama. He agrees that prices will remain high.
"Feed prices are making a structural shift to a permanently higher plateau," says Karlin. "World and U.S. grain stockpiles are so low, it's going to take two to three good seasons to replenish supplies.
"In the past, price spikes were usually supply oriented," he adds. "They were dynamic but short lived, and we had some buffer stocks to cushion the impact of a low crop. Now we have a demand-led rally, with no buffer stocks to compensate for reduced supplies."
Even though corn prices have reached record highs, Karlin says, demand will continue to rise. By year's end -- and barring any dramatic change -- he expects:
Corn to trade at $6/bu, down slightly from its all-time high of $6.30/bu. reached by May 2008 but still well above its year-ago level of $3.60/bu.;
Wheat to fall to around $8/bu. from the $13 high it hit in February. Wheat's lower price is the result of improved global wheat harvests since last year;
Soybeans to trade at around $11/bu., down from $12.60/bu. earlier this year.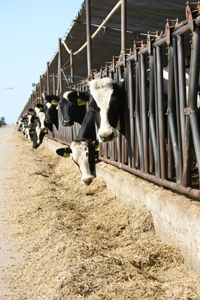 Vanden Berges are culling more heavily these days to save feed for their most productive animals.
If there's one bright spot in the feed-price arena, "it's that soybean meal prices may come down in the next two years," says Terry Roggensack, a Chicago-based agricultural analyst with The Hightower Report. The independent research firm provides daily market analyses to agricultural firms and brokers.
December 2008 futures prices for soybean meal stood at $294/ton in early May, up from $196/ton a year ago. "But if the weather cooperates, we could see a significant increase in ending stocks for beans," Roggensack says. That, combined with Brazil's record crop, could ease tightness in soybean meal supplies, pressuring meal prices to the $240/ton range.
In the short term, weather during this summer's growing season will play a big role in grain price and availability.
"Weather is a huge question mark," Roggensack says.
Any weather problems are likely to drive up corn prices from the $5.50/bu to $6/bu. level they traded at in early May. Already, a slow planting start in the Midwest has boosted both crop and price uncertainty.
 
Corn faces a tight supply upfront, says Roggensack. World ending stocks for 2007-08 are expected to drop to 103 million tons, the lowest since the 1983/84 season. In the U.S., corn producers may not be able to expand much beyond USDA's Prospective Plantings Report, which pegged 2008 U.S. corn acreage at 86 million.
 
A normal yield of 155/bu./acre could produce a U.S. corn crop of 12.2 billion bushes. That's well below the 13 billion-bushel usage pattern Roggensack says the U.S. is locked into. That could leave the carryover of U.S. corn stocks at their second-lowest level in history.
Regardless of this year's weather, long-term fundamentals support higher feed prices, analysts agree.
 
"From 1981-2006, U.S. farm prices were stagnant," Karlin says. "There was no incentive to increase production. But demand has increased with the economic growth in places like China, India, Russia and Brazil."
 
Whether it's rice, oilseeds or coarse grain, demand is matching or exceeding production, reflecting higher standards of living and improved diets around the world, Karlin says. 
 
In fact, rising world demand for food and food products -- far more than ethanol -- is fueling the price climb for corn and other feed, Roggensack asserts. The weaker U.S. dollar has further bolstered global demand for food crops, since it takes fewer yens or euros to match an American greenback. 
 
Rising oil prices are compounding the supply/demand fundamentals. Oil at $60/barrel was already spurring demand for ethanol and other renewable fuels. By May 2008, oil hit $120/barrel, a level that will sharply escalate feed, fuel and fertilizer costs. 
 
"To take a barge of corn from the Gulf of Mexico to China costs $2.79/bu.," says Roggensack. "That's up from $1/bu. a year ago." 
 
The cure for high prices, say Karlin and Roggensack, is high prices. "Eventually, high-priced commodities will start to ration demand," Karlin says.
 
Relief can't come soon enough for Vanden Berge, who continues to struggle with escalating inputs and slipping milk prices [see sidebar]. "You can't make it right now," he says. "The milk price has to increase or some of us will go out of business."
---
Bonus content: