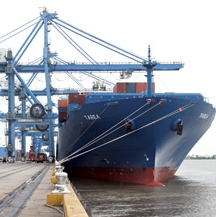 U.S. dairy exports continue to set records
The continual, almost unbroken stream of increases in U.S. dairy export volume and value is like the broken record that one never tires of hearing.
---
Bonus Content
U.S. dairy trade data
---
U.S. dairy export volumes have been increasing at an average annual rate of 12% over the past decade. And barring any fourth quarter 2013 hiccups, volumes this year will be up another 14% to 18%. The value of those exports is even sweeter music, up an average of 20% over the past decade and up 25% to 30% this year.

"World demand for dairy products is up, and the world is willing to pay for them," says Alan Levitt, vice president of communications and market analysis for the U.S. Dairy Export Council.
Levitt is cautiously optimistic as the calendar flips closer to 2014. Yes, world milk production—driven by the Euro-pean Union, the U.S. and New Zealand—is again back in growth mode. He expects global milk supplies to grow 2% to 2½% next year—or 10 billion to 13 billion pounds.

"This will put some downward pressure on world prices," he acknow-ledges. But it will likely be more of a soft landing than a hard crash. Some importers have been out of the market because of high 2013 prices. Lower

prices will mean they'll back, sopping up some of the increased supply.

"And most of the buying is underpinned by China. It is already the world's biggest buyer of dairy products, and it needs to import even more," Levitt says. "The Chinese are willing to pay what it takes to get dairy products into the country."

China has now overtaken Canada as the No. 2 destination for U.S. dairy exports. By value, China increased its purchase of U.S. products 41% in the first seven months of 2013, compared with the same period a year ago. And that's despite the fact that sales to Canada increased 20%.

Dairy Farmers of America's whole milk powder plant in Fallon, Nev., will start operation next year. This is the first plant in the U.S. wholly dedicated to the export market, designed specifically to meet Chinese product needs. Once operational, Levitt esti­mates the Fallon plant, along with Darigold and Michigan Milk plants, could export the equivalent of 2 billion pounds of milk annually, or 1% of U.S. production. 

"This is clear, tangible evidence that U.S. farmer cooperatives are committed to the global market," he says. 

Undoubtedly, there will be bumps in the road as the U.S. sells more milk overseas. In other words, risk management will become increasingly important. For now, however, the future looks bright.