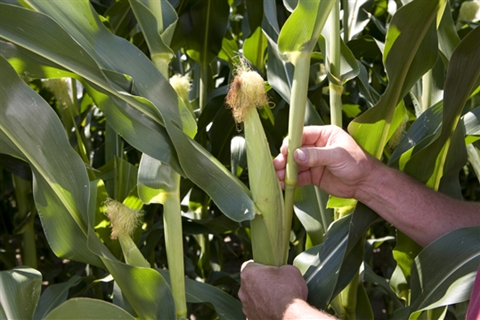 China has finally agreed to accept imports of MIR 162 corn, almost five years after Swiss biotech firm Syngenta applied for approval.
The decision has been rumored for weeks, but Syngenta announced the news Monday, noting that it had received the safety certificate for the corn variety, which is known as Agrisure Viptera. The corn, which has a genetic modification that makes it more resistant to lepidopteran insects, including corn earworm, black cutworm, fall armyworm, and Western bean cutworm. Approved in the U.S. since 2010, the variety has also been cultivated in South America and approved for import into the European Union and others. It represents about 30 percent of Syngenta's corn seed sales.
But the variety also has been dealing with an exporting roadblock since 2013, when China rejected U.S. shipments containing the Viptera corn, supposedly due to its unapproved MIR 162 trait
DDGs Win
With that grain now approved, it opens up new opportunities for American products, particularly for the dried distillers grains (DDGs) used for animal feed. "We haven't seen any whole-corn interest," said Greg Konsor, vice president and general manager for Gavilon in North America. "But we have seen activity in DDGs."
So has Gregg Hunt, a broker at Archer Financial Services in Chicago, who said that the decision could boost American DDG exports to China by as much as several million metric tons.  Prices have already begun to jump, he noted, due to demand expectations and recent large DDG orders. At one location in Kentucky, DDG prices have nearly doubled, from $105 per ton four weeks ago to $200 per ton this week, according to Hunt.
Analysts on U.S. Farm Report last week speculated on what the approval might mean for U.S. farmers. "I don't think it means we are going to sell cargoes and cargoes of corn, but I think it means the opportunity is there," said Naomi Blohm of Stewart Peterson. Panelist Brian Basting of Advance Trading agreed. "China's domestic use of corn continues to grow. … Even with a record crop, it appears they cannot grow enough to meet that demand," he said.
Listen to their full discussion here:
After so much discussion, though, the official announcement's impact on the overall corn market was relatively muted. While prices for March corn futures climbed to $4.112 Monday, commodities brokers downplayed the idea that Viptera's acceptance was responsible. "The market has already known this," said Hunt, who says those recent big DDG export orders suggested to the trade that China's approval was imminent. "That's all factored in now.
Legal Issues, Logistics
What hasn't the news from China affected? Syngenta's Viptera-related legal issues. Since the grain was rejected, the biotechnology company has been sued by exporter Cargill, American corn farmers, and others citing financial damages due to the import ban.
Those lawsuits, at least for the moment, appear to be continuing. "We don't believe the approval will have a material impact on the lawsuit," said Mark Klein, a Cargill spokesperson.  
Neither does Syngenta. "Syngenta believes the lawsuits are without merit and strongly upholds the right of growers to have access to approved new technologies that can increase both their productivity and their profitability," Paul Minehart, Syngenta's head of communications for North America "We do not think this approval will have any direct impact on the current litigation, which we intend to defend vigorously."
Archer Daniels Midland, which is also suing Syngenta, declined to comment on the news.
But the fallout from the Viptera situation may also lead to some advances in grain logistics for Syngenta and its seed pipeline. In partnership with Gavilon, the company developed a "Right to Grow" program that allows them to launch new traits while reassuring growers that they will have channels for selling and marketing their grain, even if certain countries' import approvals are delayed for that variety.
"More genetics are coming," predicted Konsor, who believes technology can help grain handlers adapt to the global marketplace's changing needs and expectations as far as biotechnology.