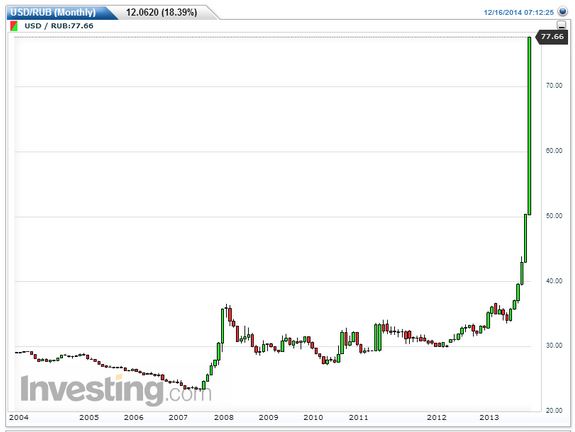 Yesterday was not a good day for the Ruble. The Russian currency has been in a freefall since yesterday, losing more than 10% of its value in a single day of trading Monday, Dec. 15. Then, at 1 a.m. Tuesday morning, the Central Bank of Russia intervened by moving interest rates from 10.5% to 17% in an attempt to stop the bleeding.
The tumble was so dramatic, traders even received the following notice yesterday: "Please be aware that the USD/RUB pair will be discontinued starting on Wednesday, December 17th at 8:00 am EST due to recent instability of the Russian Ruble. Please do not open any new USD/RUB positions. Thank you."
Monday's dramatic moves shocked many, but the Ruble's decline has been ongoing for some time based on Western sanctions, low oil prices and other potential causes. This year, the ruble has plummeted 58 percent even after an 11.5 percentage-point increase in rates and interventions exceeding $80 billion.

So far, market analysts have met the Central Bank of Russia's surprise interest rate hike with skepticism. "This is what a currency collapse looks like," writes Matt Weller, a senior technical analyst with FOREX.com.
"For now, the ruble remains extremely vulnerable to bouts of further weakness – just because it's fallen so far does not mean it cannot fall further. That said, the West hardly wants a rogue nuclear state in a desperate economic crisis, so coordinated global action on $USDRUB could be a possibility if the ruble continues its collapse."
Meantime, Cody Bills with Grain Hedge explains the possible implications for global grain markets.
"Russian grain is cheaper than the rest of the world's grain because the currency has devalued so quickly," he says. "Because it is cheaper, grain exports are moving out of their country faster, which makes the government worry that there will not be enough grain left for domestic needs. Now, the market is concerned that the government will impose some trade restrictions to slow the movement of grain out of their country, which will be positive for other grain exporters on the world market, like the U.S."
Bills adds that earlier this month, Russia's Veterinary and Phytosanitary Surveillance Service (VPSS) introduced new regulations to check conditions of grain, storage facilities and machinery. This will likely intensify higher export costs and slower grain movement out of the country, he says.
UPDATE - Bloomberg reports that Russia plans to increase grain reserves to at least 5 million metric tons to ensure supplies for flour millers and animal feed producers, Agriculture Minister Nikolai Fedorov told reporters in Moscow. Prices are rising in Russia, the world's fourth-largest wheat exporter, after foreign buyers took advantage of the weakening currency to increase grain purchases.
Farmers in Russia have refrained from selling grain on the domestic market as the ruble declines, market researcher SovEcon said Nov. 17. The government has been unable to purchase any milling wheat at its weekly buying sessions at the National Merchandise Exchange since Oct. 28, according to data from the exchange.
And Paul Georgy with Allendale says that three trade sources told Reuters that VPSS has restricted grain export certificates for some countries.
"If this move becomes more widespread, it would likely benefit EU exports more than U.S." he says.