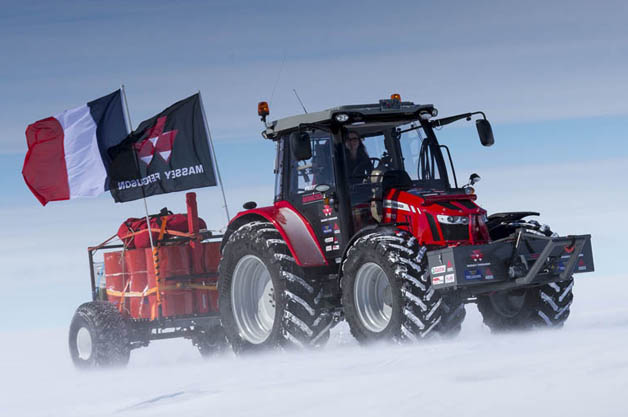 Manon Ossevoort is sometimes called "Tractor Girl," and for good reason. Past accomplishments include a 38,000 km (about 23,600 miles) trek from her home in the Netherlands across Europe and Africa. Her next trip has already begun – she's in the middle of a 5,000 km (3,100 mile) journey from the Novo Runway in Antarctica to the South Pole and back.
"It seemed like such an impossibly big dream, but it's all falling into place – now it's mission possible," she said on Nov. 22 as the "Antarctica2" expedition kicked off.
The workhorse of this journey is a 110hp Massey Ferguson 5610 with several adaptations to help it cope with extreme temperatures, terrain and altitude. Temperatures on the southern continent could dip as low as -58 degrees Fahrenheit during the trip. The machine's three-cylinder engine remains unaltered, but additional adaptations were made to the cab, electrics, air intake and filtration to withstand the subzero conditions.
"It's a bold mission and promises to be a fascinating story of strength, endurance and teamwork," says Campbell Scott, Massey Ferguson director of sales engineering and brand development. "Our MF 5610 is ready to face the extreme elements and repeat the achievement of our TE20 tractors, which took explorer Sir Edmund Hillary to the South Pole in 1958.
Other industry partners for the expedition include Trelleborg tires, Castrol, AGCO Finance, AGCO Parts, Fuse Technologies and Mechatrac. Piero Mancinelli, R&D director of agricultural and forestry tires at Trelleborg, says the tires needed for such an adventure had to meet a very specific set of requirements.
"The demanding conditions of Antarctica require flotation at extremely low pressure, grip and traction as well as reduced fuel consumption," he says. "To cope with diverse ice and snow conditions varying from low to extremely low temperatures, tires need to boost grip through ultra-deflection of the carcass and widening the footprint as much as possible, at very low pressures."
Joining Ossevoort is an expert team of polar explorers to provide guidance, audio-visual lead and support, and mechanic duties. The MF 5610 is running on Jet A1 fuel that has a much lower freezing point than regular tractor diesel. A stockpile of replacement parts (if needed) is along for the ride, and the tractor's AgCommand telematics system relays information back to a 24-hour support team at the AGCO tractor factory in Beauvais, France.
Here is video of the tractor being unloaded at Novo Runway, Antarctica:
For real-time updates of the Antarctica2 expedition, visit http://www.antarcticatwo.com/. 
UPDATE - Ossevoort and her crew successfully completed their expedition on Dec. 20. They arrived at the South Pole on Dec. 9. The entire journey took 28 days to accomplish.
"I can't even begin to describe the emotions I'm feeling now - elation at such a wonderful expedition, relief in getting back to Novo Runway successfully," Ossevoort says. "I can't wait to start telling the story and hopefully encouraging others to follow their dreams."
Some stats from the trip included:
The tractor's engine ran for 584 hours
The tractor consumed 650 gallons of fuel
The team consumed 600,000 calories
The average temperature was -27 C (-16.6 F)
The average altitude was 2,900 meters (9,514 feet)
Ossevoort was joined on thefinal leg of her years-long journey by a mother-daughter team of arctic explorers from Canada, a mechanic from France, a videographer and a logistics coordinator from the UK, and drivers for a pair of specially prepared Toyota pickups.
No telling what she'll do next, but she can safely say she's been to the ends of the earth - on a tractor, no less.