The environment is a driving factor when building soybean yield components and managing pests. For multiple years, Farm Journal Associate Field Agronomist Missy Bauer has led a Farm Journal Test Plots effort to learn more about the impact of row spacing, how to control white mold and more about the possibilities with variable-rate application, all in an effort to increase yields. —Margy Eckelkamp
Row Spacing Guides Management Decisions
In addition to impacting yield potential, row spacing affects pest management strategies. For the past two years, Bauer and her test plots crew in Michigan have evaluated three different soybean row spacings. 

Although planting equipment often drives row spacing, Bauer encourages farmers to consider how different row spacings affect management decisions throughout the season. Row spacing influences the timing of canopy closure, the plant's ability to harvest the maximum amount of sunlight and the environment for disease. 

"We had two very different years. It was very dry in 2012, and the narrower the row, the better the outcome," Bauer says. "That allowed the canopy to close quicker and conserve more water." 

In 2013, the study was conducted in two fields: the first field compared twin, 30" and 15" rows; the second field included twin and 30" rows. A Great Plains Yield-Pro planter was used for the 30" and twin rows and the cooperating farmer's Kinze planter was used for the 15" rows. 

"In the first field, comparing three row spacings provided interesting insight," Bauer says. "Across the field, the narrow rows yielded stronger. Most of the management zones showed we gave up yield in the wide rows. Twin-row yields fell between the 15" and 30" yields."

The field was planted in replicated treatments at 160,000 plants per acre, which was the farmer's standard rate. 

"There was more branching in the 30" and twin-row soybeans compared with the 15" rows," Bauer adds. "However, the rows closed sooner in the 15" rows, which allowed for earlier sunlight capture."   

In three of the four yield zones, the 15" yielded the strongest; however, in the fourth yield zone 15" rows had a yield reduction of more than 1 bu. compared with other row spacings. The white mold pressure was heavy in one management zone, which was reflected in yield by row spacing. The 30" rows and twin rows had lower white mold infection, which led to higher yields than the 15" rows.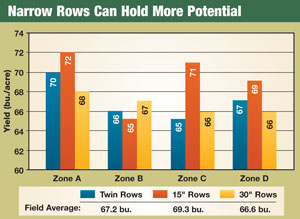 Both twin rows and 15" rows are considered narrow row spacing, says Farm Journal Associate Field Agronomist Missy Bauer. Narrow-row success stems from pest management. Zone B had heavy white mold pressure, which negatively affected the narrow rows the most. 

"A lack of air circulation creates a favorable environment for white mold infection," Bauer explains. "As a result, narrow rows can see a higher rate of white mold."

Canopy closure and pest pressures drive the yield advantages with narrow row spacings. 

"In 2012, we didn't have high white mold pressures because of dry conditions, and closing the rows was a big deal," Bauer says. "Without the pest pressure, the 30" seemed to drop more and the twins and 15" rows did better."

In the second field, the farmer's standard rate of 150,000 plants per acre was used in replicated plots comparing twin and 30" rows.

"The twins outyielded the 30" rows by 1 bu.," Bauer says. "On average, there was not a huge difference between the row spacings. This was a year when we closed canopy better than 2012. The twin rows were close enough together to just edge out the 30" rows. Most of the time, it's advantageous to get the canopy closed as early in the season as possible." 

As a general rule of thumb, the quicker the rows close, the faster you can take full advantage of the sunlight, Bauer adds. 

When farmers weigh row spacing decisions, many try to plant corn and soybeans with the same planter.  

"Consider equipment costs and environmental factors," Bauer encourages. "If you are in an area with potential for white mold, be respectful of that detail and take it into consideration when making a decision."
---
Take Action Before White Mold Strikes
This is the second year Bauer has planted test plots to learn more about control measures for white mold. White mold outbreaks are common in her area in the eastern Corn Belt, which 
includes southern Michigan, northern Indiana and northern Ohio. Cool, moist conditions are favorable for the disease to thrive.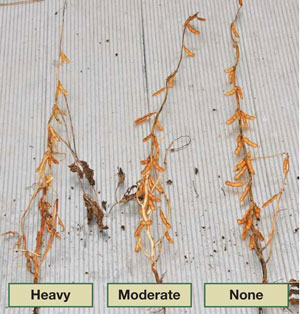 Pulled from different zones with white mold, the heaviest pressure resulted in reduced pod fill. 
"Infection happens at flowering, but once the plants are infected there is no corrective measure," Bauer says. "The primary controls for white mold are preventative measures." 

Variety selection, row spacing, weed control, crop rotation and fungicides are all used to help control the pest. 

To learn more about applications that can help suppress white mold, Bauer set aside test plots that included a range of commercially available products. The treatments varied with combinations and single applications of the following: 
Contans from Sipcam Advan is a soil-applied preventative fungicide that controls Sclerotinia diseases. Contans was applied preplant at 1 lb. per acre and incorporated using tillage or irrigation. 
Domark from Valent is a broad-spectrum fungicide, which was applied at 5 oz. per acre at R1. 
Cobra from Valent is a herbicide that was applied at 8 oz. per acre at the late V stage. 
Approach fungicide from DuPont was applied at 9 oz. per acre at R2. 
The first test plot location, which was irrigated, had heavy white mold in spots.  

"Under irrigation, it seems like we got a fuller plant, which made it harder to control white mold," Bauer says.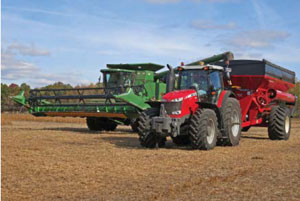 Every soybean test plot, like all Farm Journal Test Plots, is harvested using a calibrated yield monitor and weigh wagon with scales. 

As much as 60% of the plants were infested in the hot spot areas. The Contans treatment had 30% infected; Contans plus Domark had 25% infection; Domark had 30% infection; Cobra plus Domark had 10% infection; and Approach had 40% infection. 

"You could tell by looking at the beans, there was less white mold in the Cobra plus Domark treatments," Bauer says. "The Cobra shortened the soybeans and the plants visually had less white mold incidence."

The second location was not irrigated and also had reduced levels of white mold. While there was only 5% infection at this site, the applications cut the infection to almost 0%. 

Bauer is encouraged by the results of the test plots to help farmers prevent white mold. 

"There can be 10 bu. to 15 bu. swings in the same pass as you go from infected to uninfected areas. With heavy pressures on individual plants, yield can be knocked down to zero," Bauer says. "But there are tools to help manage this pest." 
---
The Possibilities With Variable-Rate Population
After seeing the benefits of using variable-rate technology (VRT) to adjust corn populations and studying the yield components of soybeans, Bauer decided to lead a first-year effort to study VRT soybean population at three locations.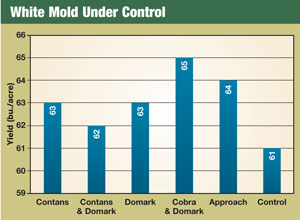 One way to manage white mold is to manage soybean plant growth. When plants are shorter or less vigorous, the white mold infestation rate decreases. The multiple applications took place at different times. 
How plants branch, set nodes and fill pods can be affected by plant densities. Knowing how yield components can be influenced helps set the stage for VRT populations that conserve seed or push yields. 

"If we start VRT across the field, you can have greater confidence as to where to dial back population when you know you improved the plant's yield components," Bauer says. "Thinner densities have the potential to hold more nodes per plant and pods per node. With VRT, the difference will be made up in more pods and more three-bean pods. That gives us more confidence when we lower population to hold on and maintain yields."  

Highly productive soils might produce adequate yields with lower plant populations and medium to poor soils might need higher plant populations to optimize yield. 

To get started, Bauer and her crew gathered multiple years of yield and soil testing data as well as remote sensing information to define the management zones. They used two approaches to determine the best VRT soybean population for each zone in addition to testing uniform rates: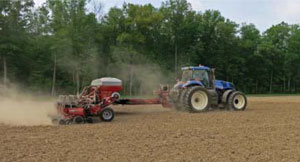 In 2013, Farm Journal Associate Field Agronomist Missy Bauer studied the possibilities of variable-rate soybean populations for the first time. 
VRT 1: Increase populations in poorer management zones and decrease populations in highly productive zones; don't take highs as high or lows as low. 
VRT 2: This approach is similar, but it has bigger ranges between populations; highs went higher and lows went lower. 
Uniform rate populations: 125,000, 170,000 and 215,000.

For each test plot, stand counts were done to compare planting rates and populations in the field. 

"With varying seed sizes and other factors, farmers tend to overplant or underplant. Even with VRT soybean populations, we changed in increments of 15,000 to 20,000 seeds. For now, the level of detail isn't good enough to change by 5,000," Bauer says. 

In addition to the number of nodes on the plants and pods per node, at the lower densities, plants resulted in more seeds per plant.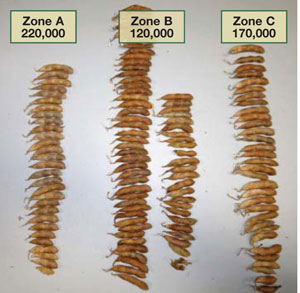 These samples, which show average pods per plant, were pulled from different management zones planted to the prescribed variable-rate populations. 

"Most of the time, we saw more pods and more three-bean pods. It wasn't necessarily two-bean pods," Bauer says. "It becomes a game of numbers. Lower plant populations might bring more pods per plant but you have less plants." 

In addition, the test plots crew also analyzed seed size. Based on their form of measurement, there wasn't a large swing in size for VRT. 

All three sites resulted in one of the VRT prescriptions being the best economic performer. For example, at the second site, the VRT 2 prescription yielded 6 bu. higher than the highest uniform rate.  In terms of dollars and cents, VRT 2 produced a net gain of $916.64 per acre and the uniform seeding produced $823.83. 

"So far, we think, the biggest gains are going to come from the better ground where we are able to maintain yield components and pull back populations," Bauer explains.

The VRT soybean population test plots will continue this year in partnership with the Michigan Soybean Promotion Committee.
---
Thank You to Our Test Plots Partners
Our thanks go to: AGCO/Massey Ferguson, Conor Bergin, David Webster and Lindsey Pettyjohn; Williams Farm Machinery and Dave Gloor; Case IH, Bill Hoeg, Luke Gazaway and CJ Parker; Great Plains Manufacturing, Tom Evans, Doug Jennings and John Sites; New Holland, Mark Hooper, Gary Wojcik and Paul Canavan; Burnips Equipment and Carl VanderKolk; DuPont; Syngenta and Palle Pedersen; GeoVantage; Trimble, Sid Siefkin and Brian Stark; OmniStar and John Pointon; Unverferth Manufacturing and Jerry Ecklund; Wells Equipment; Valent and Neil Badenhop; Sipcam Advan and Scott Peterson; Michigan Soybean Promotion Committee and Tim Boring; Bob and Mary Kochendorfer; LDK Farms and Leon Knirk; North Concord Farms and Dick Dobbins Jr.; Finegan Farms and Terry Fingen; B&M Crop Consulting, Bill Bauer, Vicki Williams, Amanda Anderson and Megan Tomlin.