Pro Farmer Senior Market Analyst Rich Posson says his business-cycle model forcasts a price objective for August live cattle futures as high as $158.00. "The business-cycle model forecast is for a rally into mid-June to early July for a Level 2 top. A Level 1 peak is due in August," he says. "Funds have been modest buyers, while Choice boxed beef prices recently posted a record high. Open interest has been on the rise as prices worked higher suggesting new longs were created. The analysis suggests it is time for prices to pick up the pace. The five-week moving average is nearby support around $150.00."
In the August live cattle chart below, Posson uses technical indicators such as stochastic, moving averages, trendlines as well as his business-cycle analysis: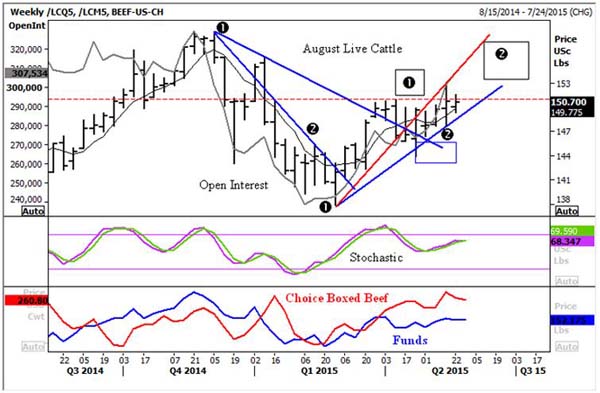 Once a week, Pro Farmer VIP Members have access to Pro Farmer's Tech Talk, compiled by Posson, who is a certified market technician. Click here to learn more about the service and click here to become a Pro Farmer Member.