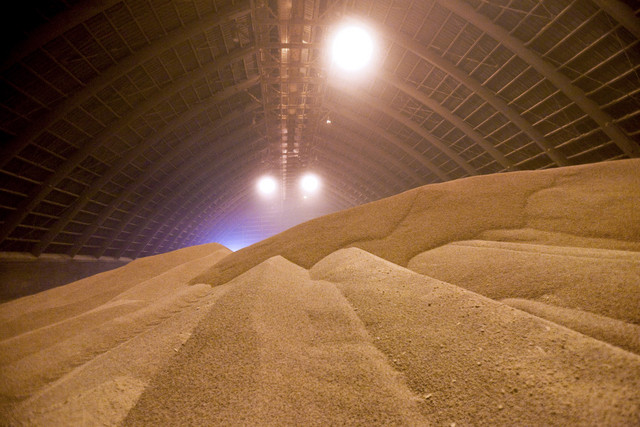 OAO Uralkali, the world's largest potash producer, said it expects to produce as much as 12 million tons of potash this year, raising the forecast by 4 percent even after one of its mines was halted because of flooding.
"With increased capacity utilization at other mines, we intend to produce 12 million tones of potash this year to meet strong demand from our customers," Chief Executive Officer Dmitry Osipov said in a statement. The previous target, announced in August, was 11.5 million tons.
Uralkali is monitoring the Solikamsk-2 mine in Russia's Perm region after water began flowing in last month. A sinkhole that has widened to 50 meters (164 feet) by 80 meters opened near the mine, swallowing up local summer homes. Uralkali sees a high risk that the mine will be completely flooded, forcing it to abandon a site that makes up almost about 18 percent of its capacity.
"We expect the accident to have an insignificant impact on our 2014 full-year output target," Osipov said.
Uralkali shares rose 11 percent to 137.05 rubles by 4:12 p.m. in Moscow after the statement.
The company also reported that third-quarter revenue increased 5 percent from a year earlier to $896 million. The increase came from higher output, with the average export price for potash falling 14 percent from a year earlier.
"Global potash deliveries in 2014 are estimated to reach a record 59 million to 60 million tones, aided by restocking needs and affordable potash prices," Oleg Petrov, Uralkali's director of sales and marketing, said in the statement. "As of the end of 2014, the potash industry is in reasonably good shape with healthy inventory levels."