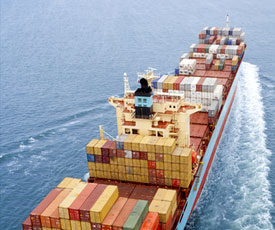 Overall dairy shipments to foreign customers dropped 12% from a year ago, reflecting pricing disadvantages for U.S. suppliers.
Source: U.S. Dairy Export Council
U.S. dairy exporters shipped 159,592 tons of milk powders, cheese, butterfat, whey and lactose in August, down 12% from a year ago and down 7% from July. Volume sales have fallen in four of the last five months, reflecting pricing disadvantages for U.S. suppliers and more competition from Oceania and the EU.
Total exports were valued at $585.7 million in August, down 6% from July and the lowest since April 2013. Through eight months, year-to-date sales were $5.13 billion, up 18% vs. 2013.
On a value basis, sales to Mexico ( 18%), South Korea ( 36%) and Japan ( 42%) registered significant gains in August compared with a year ago. But Southeast Asia (-9%), China (-24%) and the Middle East/North Africa region (-49%) saw declines.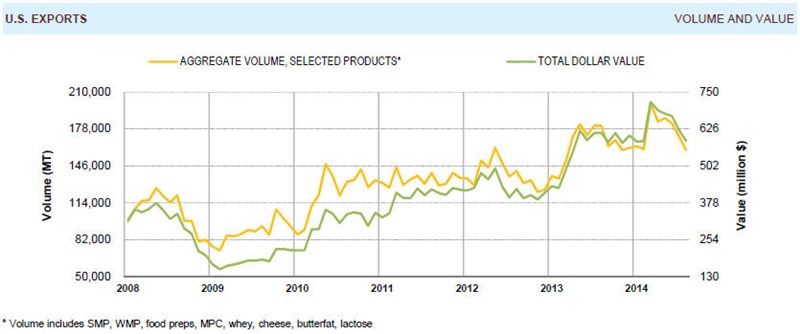 U.S. cheese exports remained strong in August, topping 31,000 tons for the ninth straight month. That brought year-to-date exports to 262,533 tons, up 29% from last year. In the first eight months of the year, exports to Mexico rose 9%, South Korea was up 55% and Japan climbed 46%. However, in the April-August period, cheese shipments to the Middle East/North Africa region were 15% lower than a year ago.
Other major product categories didn't fare so well. Compared with July, nonfat dry milk/skim milk powder (NDM/SMP) exports declined 13%, butterfat was off 33%, dry whey was down 2% and WPC fell 12%.
Exports of NDM/SMP were 45,438 tons in August, the lowest figure since February. Shipments to Southeast Asia, China and Middle East/North Africa were all below year-ago levels, offsetting increased sales to Mexico.
Butterfat exports were just 3,549 tons, the lowest since December 2012. Shipments to Saudi Arabia, Morocco and Egypt were just 627 tons.
U.S. total whey exports have declined for five straight months. In August, dry whey exports were the lightest in 20 months (on a daily average basis). Over the last four months, WPC exports were 9% less than in the same period last year. Meanwhile, WPI exports reached a record high 2,662 tons in August, a 28% gain over August 2013.
U.S. exports (on a total milk solids basis) were equivalent to 14.9% of U.S. milk solids production in August. Imports were equivalent to 3.3% of production.