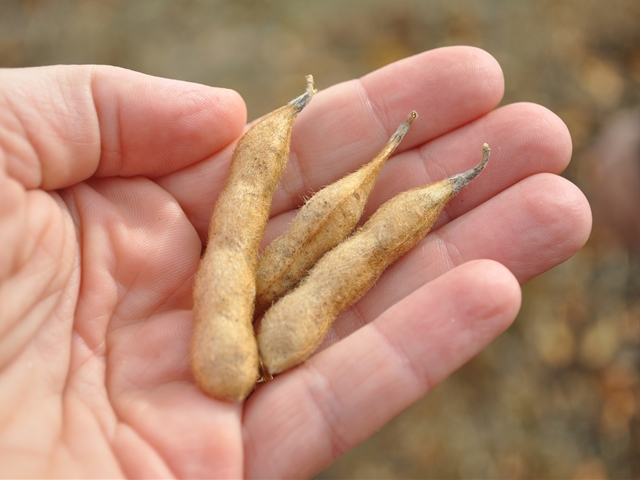 Depending on what Monday's USDA reports say, farmers may want to seriously think about selling some soybeans.
That's the verdict from Brian Roach of Roach Ag and Ted Seifried of Zaner Ag, speaking this weekend on U.S. Farm Report. "The soybean market has been trading pretty much sideways here for the last near term, but I would encourage soybean growers to really get ready to sell this rally," said Roach. "If this market report is not bearish on Monday, they ought to have their plans in place and be willing to let some soybeans go here."
Prices are decent, he explained, and the downside risk is high, given the potential of the  South American crop. "If you look around the Midwest …. we're above $10 in a lot of cash markets," Roach said. "They ought to be letting beans go here."
Seifried agreed and also recommended farmers consider forward selling. "The soybean outlook going forward is really quite bearish when you look at a record crop here in the United States, a potential record crop down in South America--although we're still waiting on Brazil weather for the next couple of weeks or so—and a potential record planting here again in the United States. We're kind of overshooting the mark on the production side of things," he said. "We've had strong demand, but we've met that and now we're starting to overproduce. It's very likely that we could see quite a bit lower soybean prices down the road."
Listen to their discussion here:
In terms of corn, the expected drop in harvested acreage could make the Jan. 12 report a "friendly" one that supports higher corn prices.
But farmers shouldn't get too comfortable, according to the panelists.
"The corn markets had a nice appreciation on price since the lows last fall, and I think what producers are going to want to do is get used to the idea that $5 corn in not going on the market in the next couple rallies unless this report on Monday is real friendly," said Roach, who warned that a bearish report could cause some corrections.
"I think producers are going to get maybe three, four, five opportunities to sell grain here on into pollination, and that they want to break that up evenly, or if they're more bearish, [they] may want to spread that out," Roach suggested.