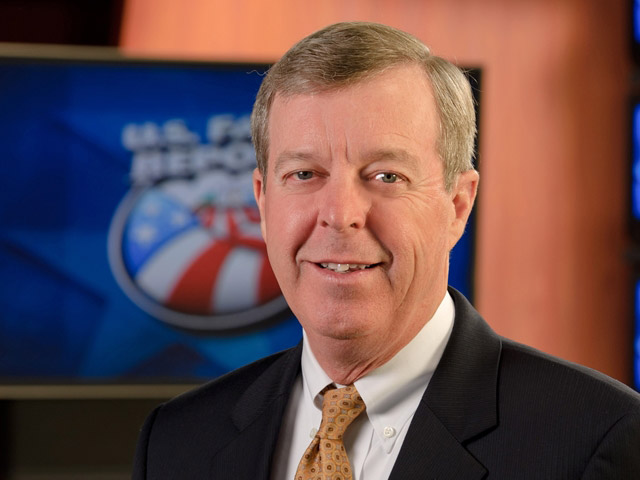 After nine years with the show, U.S. Farm Report's John Phipps is stepping down at host. He'll still be a huge part of the show each week with his thought-provoking commentary. He'll just contribute from the farm.
Click the video below to hear John's announcement--or read his full commentary below--and find out who will be replacing him as host.
"Each week at this time, I promise that we will keep working to do even better. We are taking another big step toward that goal. Just like on our farm, and many of your operations, our show is transitioning to a younger generation.

"Next week Tyne Morgan will become the host of U.S. Farm Report. Regular viewers have undoubtedly seen this coming. You will be delighted, I believe, by the new voice she will bring to this role. Like her generational counterparts all across agriculture, she is more than prepared, and will bring fresh energy, optimism and intelligence to the task.

"It has been a singular privilege to follow the founders of this program - Orion Samuelson and Max Armstrong - and to strive to advance its quality and usefulness. But I am ready to be relieved. It is my hope to extend my life expectancy, and that of many others, by ending my 3 hour, 90 minute commute on I-65 and the Indiana toll way every Thursday and Friday.

"My sincere thanks go to the television professionals at WNDU along with the technical experts of farm journal in South Bend who helped this farmer reach an uneasy standoff with TV cameras. it was an honor as well to work alongside the media professionals of farm journal broadcasting, especially Al, Tyne, and Mike.

"The decision by the leadership of farm journal to assign this farmer as a TV host was clearly audacious. And it has been adventure for which I will always be thankful.

"My deepest gratitude goes out to all of you who have supported our show and particularly those who have shared their comments. I rarely read the kind words we receive, but please know that all of them have been deeply appreciated.

"This isn't quite a melancholy goodbye, however. I will still be with you each week from our farm using the internet instead of an interstate. John's World and an updated version of the mailbag will be part of a new lineup, but I'll let Tyne unveil the surprises.

"Thank you all for nine wonderful years. I hope my legacy is simply to be the third in a long line of U.S. Farm Report hosts.

"So, it is that in more than one sense...I stand relieved."