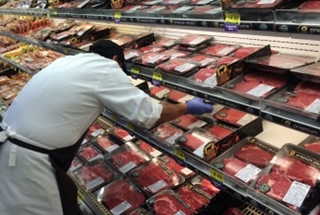 The U.S., the world's biggest beef consumer, is lifting a ban on imports from Ireland more than 15 years after mad cow disease spurred restrictions of supplies from Europe.
Ireland's Agriculture Ministry said it's the first European Union country to regain access to the U.S. market, which buys more beef than any other country, according to an online statement today. The nation is the EU's sixth-biggest beef producer and ranks third for exports, data from statistics agency Eurostat show.
U.S. beef prices rose to a record last year after years of drought and rising feed prices left the size of the cattle herd at the smallest since 1951, according to the U.S. Department of Agriculture. Tight supplies have pushed prices "significantly higher" than those in the EU, making Irish beef competitive in the North American market, Agriculture Minister Simon Coveney said today in an interview on RTE Radio 1.
"This U.S. market is a huge prize, given the size of the market and the demand we know exists there for premium grass-fed beef," Coveney said in the ministry's statement. "We now have first-mover advantage as a result of being the first EU member state to gain entry."
U.S. Imports
The U.S. imported about 2.4 billion pounds (1.09 billion kilograms) of beef and veal in the first 10 months of 2014, about 25 percent more than the same period the prior year, according to the USDA. Australia was the biggest supplier, followed by New Zealand and Canada.
Ireland's beef exports to the U.S. may total at least 50 million ($59.6 million) to 100 million euros this year, with the potential for shipments "to go way beyond that" in the future, Coveney told RTE Radio. Irish slaughterhouses produced 517,840 metric tons of beef in 2013, about 7.1 percent of the total in the EU, according to the most recent Eurostat figures.
Bovine spongiform encephalopathy, also known as BSE or mad cow disease, is a transmissible brain disease that is fatal for cattle. Eating meat from BSE-infected animals has been tied to Creutzfeldt-Jakob disease, an incurable human illness that destroys brain tissue. BSE cases were found in U.S. herds in 2003, prompting countries including Japan and South Korea to halt imports, and in 2012.