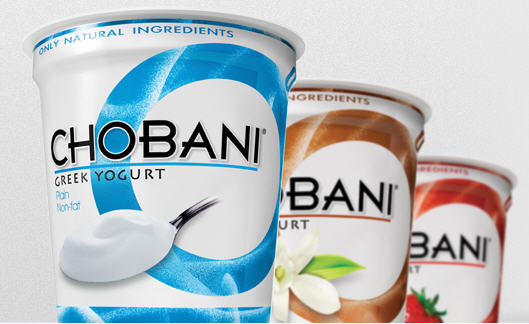 Chobani to fuel generations of Team USA athletes as official yogurt provider.
Source: Chobani
COLORADO SPRINGS, Colo. – The United States Olympic Committee and Chobani, the No.1-selling Greek Yogurt brand in America, today announced a long-term partnership through 2020. Through this extension, Chobani will serve as the official yogurt provider to Team USA for the 2016 Olympic and Paralympic Games in Rio de Janeiro, Brazil, 2018 Olympic and Paralympic Winter Games in Pyeongchang, South Korea, and 2020 Olympic and Paralympic Games in Tokyo, Japan. 

"Chobani has served as an important addition to our roster of partners, and we are thrilled the company will remain in the USOC sponsor family through 2020," said USOC chief marketing officer Lisa Baird. "Through its ongoing commitment to creating healthy products and promoting healthy lifestyle choices, Chobani has been an integral partner in our mission to support the competitive aspirations of current and future Team USA athletes, many of whom include Chobani in their diets and training regimens."
The USOC first announced its partnership with Chobani in 2012, representing a new category in its roster of industry-leading sponsors. In 2014, Chobani packaging featured winter sport icons with the tagline, "naturally powering Team USA." Through the terms of the new agreement, Chobani will continue to carry the Team USA logo through the 2020 Olympic and Paralympic Games.
"Our partnership with Team USA couldn't be a more natural fit, and we're extremely proud to continue helping these athletes on their journeys for gold," said Peter McGuinness, Chobani chief marketing and brand officer. "Like the athletes and teams we're naturally powering, we strive to deliver our best each and every day."
A wide range of Chobani products will continue to be made available to athletes living or training at the U.S. Olympic Training Centers in Colorado Springs, Colo., Chula Vista, Calif., and Lake Placid, N.Y. In addition, USOC dietitians and culinary teams will continue to work closely with Chobani to incorporate the high-protein food into pre-competition and training menus.
"Chobani is more than a part of my diet, it's truly been part of my training," said Zach Parise, U.S. Olympic ice hockey silver medalist. "What you're eating really matters when it comes to fueling peak performance and going for gold, and it's exciting to know Chobani will continue to fuel Team USA toward victory for years to come."
"Chobani has been a core part of my diet, whether its summer or winter, and whether I'm training or competing for gold," said Allison Jones, a U.S. Paralympic medalist in both alpine skiing and cycling. "It's made a noticeable difference in my nutrition plan, and I'm excited Chobani has committed to being a Team USA sponsor for the long term."
Products made available to athletes at the traning centers will include:
• Chobani core single-serve cups.
• Chobani Nonfat Milk and Whole Milk Plain Greek Yogurt in multiserve containers.
• Chobani Simply 100 Greek Yogurt is the recently-launched natural 100-calorie Greek Yogurt.
• Chobani Greek Yogurt Oats.
• Chobani Flip™ Greek Yogurt.
Founded in 1894 and headquartered in Colorado Springs, Colo., the U.S. Olympic Committee serves as both the National Olympic Committee and National Paralympic Committee for the United States. As such, the USOC is responsible for the training, entering and funding of U.S. teams for the Olympic, Paralympic, Youth Olympic, Pan American and Parapan American Games, while serving as a steward of the Olympic and Paralympic Movements throughout the country. For more information, visit TeamUSA.org.

Maker of America's No. 1–selling Greek Yogurt brand, Chobani, LLC, was founded on the belief that people have great taste — they just need great options. Chobani produces high-quality authentic strained Greek Yogurt products made with only natural ingredients from its New Berlin, N.Y., and Twin Falls, Idaho, plants. Chobani is committed to using milk from regional-area farms and strengthening its surrounding local economies.
Chobani gives 10 percent of its annual profits to charities worldwide through the company's charitable foundation. All Chobani products — including Chobani® Greek Yogurt, Chobani Flip™ and Chobani Simply 100™ — are kosher certified, contain five live and active cultures, and are made with milk from cows not treated with rBST*, with most of its products offering two times more protein than regular yogurt. Chobani products are available nationwide in the U.S. and Australia, and in countries in Asia and Latin America. For more information, please visit www.chobani.comand www.facebook.com/chobani.