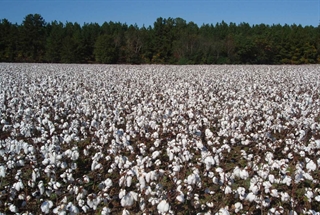 The U.S. and Brazil have reached a $300 million agreement resolving a trade dispute over cotton subsidies that has bedeviled the two nations for more than a decade, according to an American government official.
The accord to be signed today in Washington will involve a one-time payment to Brazil in return for that nation dropping all claims against the U.S., according to the official, who asked not to be identified before a formal announcement. The deal comes days before elections in Brazil and may ease tensions sparked by revelations last year that the U.S. had spied on Brazilian President Dilma Rousseff.
The cotton dispute dates to a World Trade Organization complaint filed in 2002 by Brazil over U.S. subsidies to cotton growers. Brazil, which claimed the practice disrupted trade, won the case and was allowed to levy $830 million in penalties against a wide swath of companies the U.S. staved off by agreeing to pay Brazil's farm sector $147 million in annual aid.
Those payments were ended in October 2013 as the result of U.S. budget cuts, prompting threats from Brazil that it would slap tariffs on U.S. companies in response. A new farm bill that Congress passed in February included modified cotton programs designed to mollify Brazil's concerns.
U.S. Trade Representative Michael Froman and Agriculture Secretary Tom Vilsack will be present for the agreement, the official said.