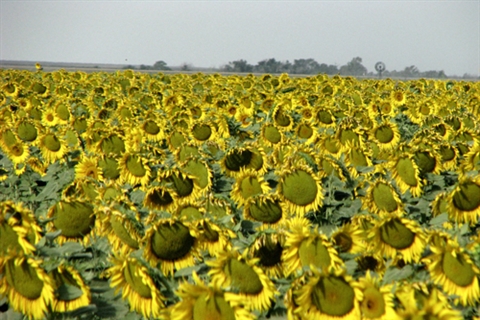 One would hardly know from Republican Sen. Pat Roberts' campaign speech that he is revered as a champion of Kansas' all-important farm economy.
He scarcely mentions his many years on the House and Senate agriculture committees and is banking on antipathy toward President Barack Obama, which runs high in western Kansas' endless patchwork of wheat, corn and sorghum fields, as the winning message.
But that's also because Roberts still faces some angry conservatives who supported his challenger in the GOP primary in August. They argue Roberts been a willing participant in excessive spending, including on farm legislation.
But the dozens of voters in cowboy hats and seed-corn caps who met him at breakfast at a campaign rally in Dodge City on Friday could not say enough about the three-term Republican, now in a surprisingly competitive re-election campaign — and feared that he is not saying enough about the best reason they believe he should stay in the Senate.
"If it hadn't been for crop insurance, a lot of guys would be out of farming," said Roger Slaven, a Dodge City cattle farmer. "He's just not very vocal about it and he needs to be." Roberts has been an advocate for crop insurance, as a former member of the House Agriculture Committee, a panel he chaired for two years in the mid-1990s.
Roberts needs every vote he can get out of western Kansas, much of which he represented for 16 years in the House of Representatives before winning a Senate seat in 1996. Independent Senate candidate Greg Orman of Olathe, near Kansas City, is expected to do well in Kansas' six urban and suburban counties, where a majority of the state's voters live.
But if Roberts wins overwhelmingly in the remaining 99 counties, he could stave off the challenge from the wealthy businessman. Stung by suggestions that he had become a creature of Washington, Roberts is on a weekend bus tour through the heart of a House district that spans all of western and north-central Kansas and covers 63 counties.
"One thing I wanted to do is get this bus out in the 1st District, what I call 'real Kansas,'" Roberts said in Dodge City, the same day dozens of leaders from Johnson County, the state's most populous, endorsed him.
In 1996, when he was chairman of the House Agriculture Committee, Roberts won support for a key farm bill provision that gave farmers flexibility to diversify their crops based on the market, instead of fixed payments based on acres in production.
"That's why he's popular out here," said Mark Fischer, a Dodge City wheat farmer. "He doesn't say it, but he needs to."
Roberts said he's not avoiding the subject with voters. Rather, he said, "there are other things that are on their minds."
Chuck Henderson, an engineer from Manhattan, Kansas, disagrees. Henderson was a top supporter of Milton Wolf, who came within 6 percentage points of beating Roberts in the Aug. 5 primary.
Henderson said he believes Roberts voted against the 2014 farm bill because of the threat Wolf posed. "He didn't want to get hit over the head one more time when we had a real conservative in the race. He still operates under the old school political thinking. We need someone who challenges that."
Roberts voted against the 2014 farm bill, which costs about $1 trillion over 10 years. Wolf also opposed the legislation.
It's not like Kansas voters aren't hearing from someone about Roberts' longstanding record on farm policy. He was endorsed by 14 of the state's top agriculture economy groups, including growers, livestock associations and retailers, who circulated a letter thanking Roberts.
And yet, in his standard speech, whether in the bustling suburbs of Kansas City or in the farm country near Great Bend some 300 miles west, Roberts casts the race as a battle for Senate control, not a referendum on his accomplishments.