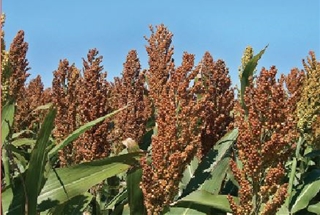 U.S. exporters sold the most sorghum in 19 years amid growing demand from China for livestock feed.
Sales of sorghum abroad totaled 584,324 metric tons in the week ended Dec. 18, according to data from the U.S. Department of Agriculture released yesterday. More than half went to China, the world's biggest consumer of grain.
"Sorghum sales are ridiculously strong," CHS Hedging, a commodity brokerage based in St. Paul, Minneapolis, wrote in a report yesterday.
China is buying more of the drought-hardy crop after the country raised concerns about U.S. genetically modified corn and rejected shipments earlier this year. It surpassed Mexico in the past season as the biggest buyer of U.S. sorghum.
China is forecast to import 5 million tons of the grain in the 12 months that started Oct. 1, compared with 4.16 million tons the previous season, according to the USDA. The amount of U.S. sorghum inspected for exports has more than doubled to 2.83 million tons since last year, based on government data as of Dec. 25.
An import ban in China on some genetically modified crops was lifted last month as the country seeks to expand food supplies.