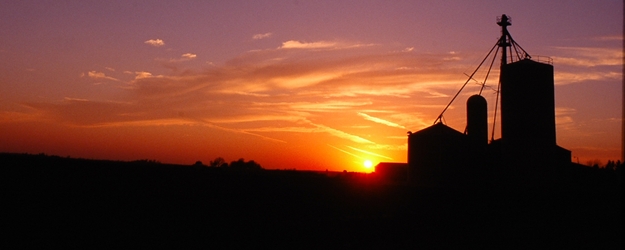 Strong balance sheets and healthy rural banking systems helped agriculture weather the recent recession better than most industries.
Commercial rural banks and the Farm Credit System account for more 80% of farm loans, according to ERS. "Commercial agricultural lenders and the Farm Credit System avoided excessive risk in good economic times, thus reducing their losses in difficult times and ensuring continued favorable access to credit for most farm borrowers," the report notes.
Quoting data from the Federal Reserve Bank of Kansas City, the researchers note that during the worst of the recession—2007 to 2009—return on equity for nonagricultural small banks fell from 7.7% to a negative 2%. Over the same period, the drop in return on equity at agricultural commercial banks was much softer, from 10.6% to 7%.
Moreover, agricultural producers have been cautious in their borrowing. Since the mid-1980s, the debt-to-asset ratio for farm businesses has trended lower. By contrast, the report notes that the debt-to-asset levels for corporate and non-corporate, nonfarm businesses have been trending higher since 1960.
Surging Exports
Besides a strong lending community and low debt ratios, U.S. agriculture has benefited from global economic growth, primarily in developing countries. According to the report, 22% of U.S. agricultural production is exported, and those exports represent nearly 10% of all U.S. merchandise exports. Leading up to the recession (1998-2007), U.S. agricultural exports grew by 9% annually in nominal terms, and the share of exports going to developing countries hit 60% by 2011, up from 40% in 1998.
The shift to exporting more to the developing world helped U.S. agriculture through the recession. "While both developed and developing countries showed declines in 2008 and 2009, developed countries went into a severe recession whereas the developing countries only had a growth slowdown," the report notes.
The researchers add that the faster growth pattern in developing nations, compared with the developed world, was established prior to the recession, reinforced during the recession, and will continue through the recovery period and beyond.
In 2009, real world trade fell 11%, and exports of developed countries dropped nearly 13%, led by expensive durable and business goods. While agricultural exports did better as a group, they were not immune to the recession. Real year-over-year U.S. ag exports fell 2% in 2009, following an increase of 5.3% in 2008. Exports of high-value products fell more sharply than commodities, with beef exports down 6% and exports of dairy products off 39%.
"U.S. agricultural export growth is increasingly dependent on developing countries and has benefited from the relatively strong economic performance of developing countries during 2008-11, as well as the depreciation of the U.S. trade-weighted dollar between 2002 and 2012," the report notes. "U.S. agricultural exports rebounded sharply in 2010 and 2011, surging 18 and 16%, respectively, in nominal dollars relative to 2009."
Currencies in developing countries have also appreciated substantially when measured against the U.S. dollar. From February 2003 to December 2011, the Federal Reserve Board's real developing country index shows that the currencies of developing countries rose by 22% over the period. "The continuing economic growth differentials and large trade surpluses in favor of developing countries indicate that the dollar should continue to depreciate relative to developing currencies, further boosting agricultural exports to developing countries over time," the report notes.
Looking ahead, U.S. agriculture is well positioned for a sustained period of strong growth in exports and farm income, the researchers conclude.
---